An illustrated history of....
PHILIP LYNOTT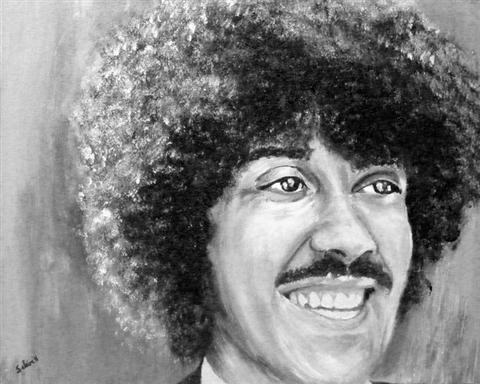 Painting © Copyright 2011 Saleire
and
THIN LIZZY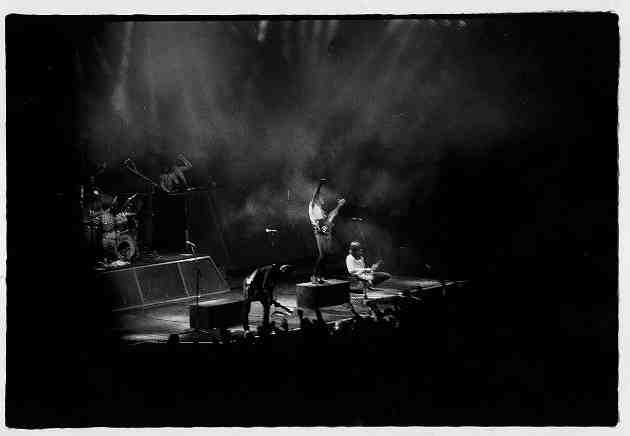 Photo © Copyright 1983 Lars Brundin
This page "History of ..." © Copyright 1997-2019 James Taylor

This page last updated July 17th 2019
For additional information on Philip and the band

ENTER the World of Thin Lizzy

For more info on some of the people playing
a part in this story visit
WHO IS ... ?
.


Photo © Copyright 1983 Lars Brundin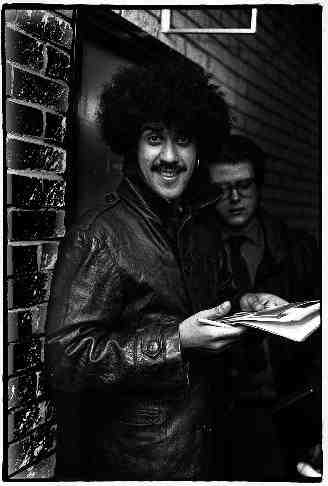 Thin Lizzy: where it all began ...

Philip Lynott was born in Hallam Hospital in the West Bromwich part of Birmingham, England, on August 20, 1949. He was the son of a black South American father, named Parris and an Irish mother, Philomena (aka Phyllis). His father, nicknamed The Duke left his mother just three weeks after the he was born and returned to his native Georgetown, in British Guiana on the northern coast of South America – not Brazil, as has been widely documented in countless articles. Both parents kept in touch for a number of years after the birth.

In 2010 Philomena revealed that she had a second son and a daughter that she gave up for adoption - and why she kept them secret for 50 years.

the late 1960's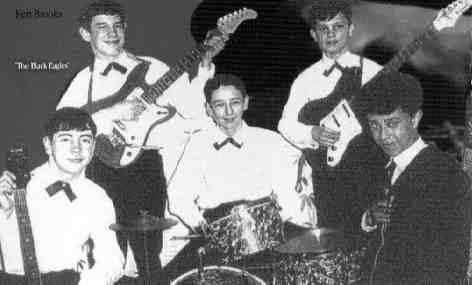 Prior to forming Thin Lizzy, Philip worked briefly in an obscure band called the BLACK EAGLES (see photo), as well as being a part of SKID ROW with, among others, ROBBIE BRENNAN (later in GRAND SLAM), GARY MOORE, and BRUSH SHIELS. Check out this interesting anecdote from author Alan Byrne.

Philip was also a part of ORPHANAGE with BRIAN DOWNEY and TERRY WOODS, both of whom pop up in the story later.

Until early 2007, Philip Lynott's first known recordings were captured circa 1969 (probably 1970) at the TREND STUDIOS. In January of 2007 it was announced that some rare earlier recordings of Philip with SKID ROW and ORPHANGE have been discovered. Apparently discussions are underway to see if it will be possible to officially release these to fans.

THIN LIZZY first came about in late 1969, when ERIC BELL (guitarist, former member of Van Morrison's early band THEM) approached BRIAN DOWNEY (drums) about forming a band. Philip Lynott (bass and vocals) was also invited to join. ERIC WRIXON (keyboards, also a former member of THEM) rounded out the initial lineup of THIN LIZZY.

the early 1970's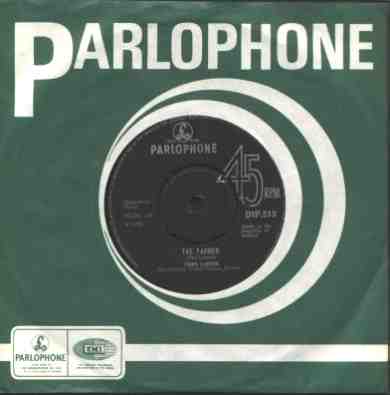 After the release of one ignored Parlophone single (Lynott's The Farmer, 1970), Wrixon left the group. This was recorded at TREND STUDIOS. These sessions included Phil, Brian Downey on drums, with Eric Bell and Gary Moore on guitars as well as some other musicians. Interestingly the band is listed as THIN LIZZIE on that single, as they were on advertising posters from that time period. Even earlier posters had them listed as TIN LIZZIE. The trio then signed with Decca and produced two albums, the first, Thin Lizzy, was released in 1971. About the time the album hit the record stores, the boys were busy recording a 4 song EP, often referred to as New Day and featuring original material. It was apparently released only in England, in August 1971, but never made it into the Top 50. Following the almost un-noticed release of their second album Shades Of A Blue Orphanage in 1972, they recorded and released their now classic hit single Whiskey in the Jar (their rocked-up version of a traditional Irish folk tune) which topped the Irish charts and reached the number 6 spot in England, despite being intended as the B-side of the single. The band had intended Phil's Black Boys On The Corner to be the A-side but the record company thought differently. In late 1998 the group METALLICA released a cover of this song, which also proved to be very successful and brought renewed interest in the Thin Lizzy recording.

It was during this next period that the three members of Thin Lizzy, desperate for funds, did some recordings with members of ELMER FUDD (later to shorten their name to FUDD). They were given one day to rehearse and another to do the actual recordings, released under the band name FUNKY JUNCTION.

Funky Junction was: Philip Lynott - bass, Brian Downey - drums, Eric Bell - guitar, Benny White - vocals and Dave Lennox - keyboards. Primarily they did one album, "FUNKY JUNCTION plays a tribute to DEEP PURPLE, although tracks from the session did appear on two or three other albums, such as "IF SIX WAS NINE" (predominantly a Thin Lizzy album) and "ESPECIALLY FOR YOU" (predominantly a Gladys Knight and the Pips album). Oddly enough, on the "Tribute to DEEP PURPLE" album only five of the nine tracks are Deep Purple songs, with the four others being credited to "Leo Muller", the German producer of the album.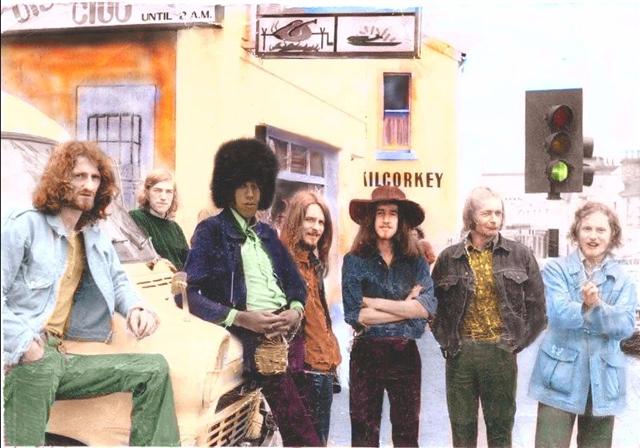 Photo courtesy of Benny White
Philip with Elmer Fudd and friends. This photo was taken somewhere in Galway in the early 1970's. It was originally a b/w photo which was later colourized by Benny White's brother Joe. Left to right they are Nicky Ryan, John Donnelly (EF's drummer), Phil Lynott, Jody Pollard (EF's guitarist), Benny White (EF's vocalist), Pete (EF's Manager) and Terry O'Neill (Thin Lizzy's manager).

circa late 1972 to early 1973: BABY FACE

From time to time rumours have been circulating about a possible Ritchie Blackmore, Ian Paice and Phil Lynott project, often referred to as Baby Face, and speculation as to whether any recordings from those sessions exist.

New Spotlight Magazine, 15th January 1972 had this teaser ... "If the Blackmore / Lynott single 'Wanted Alive' takes off will the Lizzyleader quit the group to join new Blackmore band."

Little is known about BABY FACE, although Ritchie Blackmore has confirmed the short existence of the band. Also, in an interview with Derek Lawrence (record producer, with credits that include Deep Purple) Lawrence confirmed that "The three of them did record at The Music Centre at Wembley. I have no idea of how many or what happened to the tracks. I seem to recall Ritchie telling me that they cut a track by Johny Winters called "Dying To Live". (It has been suggested that perhaps this happened November 22nd 1971).

Many years later, a greatest hits package called "Ritchie Blackmore's Best Tracks" included a track called "GUITAR JOB" apprarently credited to the band "BABY FACE" ... it's listed as a 1972 recording. In Deep Purple / Blackmore fan circles, it's considered common knowledge that "Guitar Job" is actually from the Fireball sessions and was just a jam they recorded. There is some info on this at the Highway Star web site. About "Guitar Job" they say this: "Mk 2 (Blackmore): instrumental studio jam during Fireball sessions by Blackmore and Paice only. Released on Ritchie Blackmore - Rock Profile Vol. 1."

A couple of years ago RITCHIE BLACKMORE gave an interview to a Greek magazine, and among the questions he was asked, beyond the main story, was about his work with Philip Lynott. He confirmed that they had made some demos, and they named themselves BABY FACE, but after a couple of days playing together at someone's home, they decided not to work together, because they didn't like the results. He also mentioned that he did not feel the demo's were high enough quality to ever release.

On Ritchie Blackmore's official website here's what they have to say on the subject:
"After Gillan had made his decision to leave Deep Purple during late 1972, Blackmore decided to do the same thing. He had loose plans to form a band with Phil Lynott, Paul Rodgers and Ian Paice, which has later become known as Baby Face. Rodgers left the project even before it had begun. There are recordings with this line-up (with Lynott handling vocals), but they are being held by the 1st management."

In his book "Smoke on the Water: The Deep Purple Story" (page 122) Dave Thompson wrote:
"With Ian Paice alongside him, Blackmore booked into De Lane Lea studios for the first of what would become known as the Babyface sessions - a name Blackmore biographer Roy Davies suggests might well have been inspired by Paice's choirboy looks.

To complete what the guitarist intended as a very basic power trio, Blackmore invited along Phil Lynott, bassist with the then little-known (but fast-rising) Thin Lizzy. It would be several months before the Irish hard rockers scored their first hit single, with a stunning rearrangement of the traditional "Whiskey In The Jar", but, with two highly acclaimed albums already behind them, Thin Lizzy were certainly attracting attention, and Blackmore was as enthused as anybody. Catching the band in concert during the summer [Blackmore] had earmarked Lynott for some future project, long before he decided on the project itself.

Of course, Blackmore's interest did not at all please Thin Lizzy's manager, Chris O'Donnell, all the more so since he was painfully aware of how difficult it was to keep Lynott's feet firmly on the ground. The bassist had already mused aloud about conducting a solo career alongside his duties with Thin Lizzy, and O'Donnell later summed up this latest pipedream as "a few rehearsals that had Phil thinking he [really] could live out his Rod Stewart/Faces fantasy".

"I wanted to form a band with Phil Lynott", Blackmore acknowledged. "It would consist of Phil, Ian Paice, and myself. We would be a trio. We [would] have made a few albums. That was in 1972-73. I said to Ian, 'Well, that was it. I'm leaving'. And he said he would stay with me and asked me if it was a wise decision. [But] I was just fed up with everybody". As it transpired, Babyface was doomed to obscurity. Although Lynott later recalled recording as many as five songs with Blackmore and Paice, Blackmore remembered no more than a couple (including a version of Johnny Winter's "Dying To Live"), then damned them with faint praise: "They were good, but it may have been a bit near Hendrix. I was playing that way and Phil was singing that way". In fact, Roy Davis is adamant that "the only known reels of master tape found archived thus far... contain just three disappointingly rudimentary and incomplete backing tracks".

Refuting what Roy Davis says about the nature of the resulting recordings is this excerpt from Colin Hart's recently published book "A Hart Life": "Not wanting to waste any creative time, Ritchie called me up telling me to pull out his gear and Paicey's glitter kit and take them to a small studio off Holland Park Road. This was a little strange, as Ritchie and Paicey were not exactly the practising types. Imagine my surprise when Phil Lynott of Thin Lizzy appeared in the studio too. The three of them were there for a couple of nights. I had to load in and out each day, as the studio had not been block booked, only by the session. Apparently, this was all an idea of John Coletta "just to see what would happen" as Ritchie was a long time admirer of the Irish bass player. It is common belief that the resulting tapes were not good and only half finished, lying in a long forgotten vault. Not true, I think John Coletta or Tony Edwards had them and they were finished, all four songs were great. Perhaps they will surface one day? There was an actual name given to this little 'band' and it was called 'Baby Face'."
circa 1974

Thanks to Peter Nielsen for the scan.

In the newspaper account of "Lizzy Split Denied" it is interesting to note the phrase "Lynott has no plans to record with Blackmore again", which would seem to confirm that he had indeed recorded with him previously.

Although Thin Lizzy was originally Eric Bell's band, by the third Thin Lizzy album (Vagabonds of the Western World, 1973) Philip was beginning to dominate THIN LIZZY and in 1974 Eric left. His replacement, a name that pops up periodically throughout Thin Lizzy's career, was Gary Moore (guitar, former SKID ROW member).

Also in skid row was ROBBIE BRENNAN who later became the drummer in Phil's 1984 band GRAND SLAM. A few months of touring were enough for Gary and he too quit the band, apparently fearing for his health from the heavy drinking, according to comments during interviews.

GERMAN TOUR 1974

During May and June of 1974, Philip and Brian Downey were joined in Thin Lizzy by guitarists Andy Gee and John Cann, aka Johnny Du Cann.

Photo © Copyright 1974 Andy Gee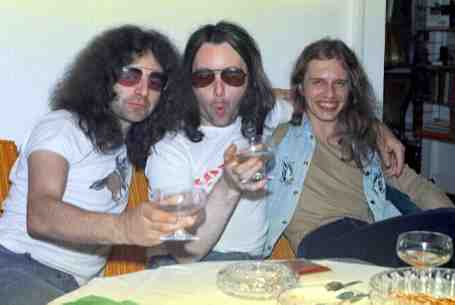 JOHN Cann, BRIAN Downey, ANDY Gee, relaxing in Frankfurt

John had seen some previous success with Vincent Crane's ATOMIC ROOSTER, and indeed did return to a reformed version of that band again in 1980.

Andy had previously been in Steve Ellis' band ELLIS (later THE ELLIS GROUP). Andy GEE and John CANN were recruited for this tour due to the sudden departure of Gary Moore and had only a couple of days of quick rehearsals before beginning the tour. For an insight into Andy's time with the band be sure to check out jt's recent interview with Andy.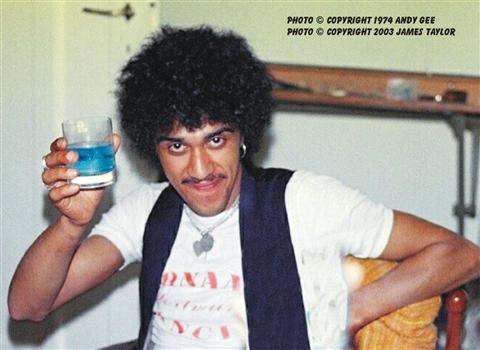 circa 1975

At this point Thin Lizzy was about to establish their now-famous twin lead guitar sound, with the addition of Brian Robbo Robertson (guitar, from Glasgow) and Scott Gorham (guitar, from L.A.). Two albums followed, (Night Life, 1974 and Fighting, 1975) but the twin guitar sound was still evolving. Thin Lizzy perfected their use of it on their first USA tour (1975, with Bob Seger and B.T.O.). Seeing these very professional bands up-close was an important step in the maturing of Thin Lizzy and prepared them for what was to follow.

circa 1976

The "big break" came in 1976 with the release of a new album (Jailbreak) and what is probably their best known single The Boys Are Back In Town. It was well received on both sides of the Atlantic, and this album still stands as one of their very best.

The next album (Johnny The Fox, released in 1976) also was very successful on the UK charts, but the supporting tour which was to follow its release ran into difficulty when Robbo cut his hand (allegedly in a bar room brawl) and was told that he would never play again (something which later proved untrue). Gary Moore was once again recruited to fill the spot, and in early 1977 the band toured the USA (with Queen, on the QUEEN LIZZY Tour).

1976 and how they got there ...

On a side note, in 1972 HUEY LEWIS returned to San Francisco, after hitchhiking through Europe with his harmonica, and he and SEAN HOPPER (later in THE NEWS with Huey) joined a country-rock band called CLOVER.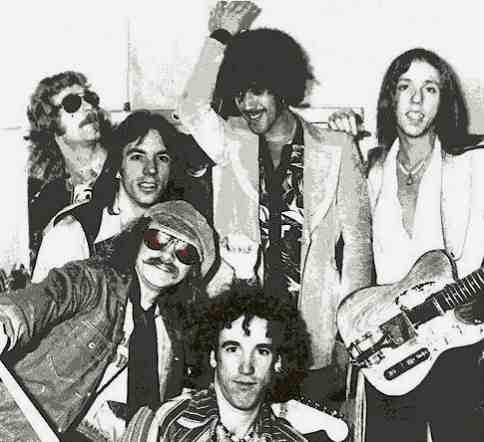 At a nightclub in Los Angeles 1976, CLOVER was spotted by English singer/producer Nick Lowe and Jake Riviera who then took the band to the U.K. Notable for Thin Lizzy fans, CLOVER opened for Lizzy on the 'Johnny The Fox' tour in October and November of 1976. This connection probably explains the presence of HUEY LEWIS playing harmonica on some live Lizzy tracks, as well as the later PHIL LYNOTT-HUEY LEWIS & THE NEWS collaboration during sessions for Phil's 3rd solo album, shortly before his death. After the Thin Lizzy tour CLOVER, in 1977, were the backing group for ELVIS COSTELLO's classic album My Aim Is True. For more info on the background of CLOVER from 1967 to present, visit the Clover-Info website. Also be sure to check out my interview with CLOVER's lead singer ALEX CALL.

circa 1977

At the end of the Johnny The Fox tour, Philip, Brian and Scott began work on the next album (Bad Reputation, 1977). This was the first of 3 albums to be produced by Tony Visconti, and featured some session work by Robbo, who also later did "guest appearances" on the subsequent European tour, and then appeared once again as a member of the band on the Fall 1977 USA tour. A double album (Live And Dangerous, 1978) was released from their 1977 London and (and possibly Toronto) tour recordings. It has been alleged that there was significant "touch up" in the studio, but this claim has been disputed and if you've heard Thin Lizzy live, you'd know that doesn't seem likely. A hit both sides of the Atlantic, this album captured more of the Thin Lizzy excitement than their previous studio albums. This rendition of Still In Love With You is considered by many to be the ultimate Thin Lizzy recording. One rumour circulating, and attributed to an interview with one of the Lizzy guitarists, claims that there actually were no Toronto recordings used for the album, but for tax reasons it was beneficial to say there were. At this point it's just a rumour. In 2007 the recording has been re-released in DVD format, containing 2 hours of bonus material.

In 1977 Philip worked with RON McGUINN on a single that was produced by Philip. It also featured ERIC BELL and BRIAN DOWNEY. The A-Side was a song written by Phil's friend Brush Shiels. The lyrics for the B-Side, BANSHEE, were written by PHILIP LYNOTT, unlike the Thin Lizzy version of this song which was done as an instrumental .

Also in 1977 Philip worked with his friend BRUSH SHIELS on a single, Producing both tracks. The B-side BETTER THAN I EXPECTED is a powerful and haunting song about a close friend being called to the hospital to see his drug addicted gravely ill friend while the friends mother sits at his bedside. As he leaves, he wonders if he'll ever see his friend alive again. Definitely eerie to listen to all these years later.

circa 1978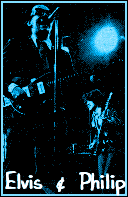 1978 was a busy year for Philip. On April 12th he was a guest artist for ELVIS COSTELLO and Nick Lowe at the Guildhall, Portsmouth, UK.

1978 also saw Philip Lynott's involvement in Jeff Wayne's Musical Version of the H.G. Wells classic WAR OF THE WORLDS along with such notables as Richard Burton, Julie Covington, David Essex, Justin Hayward (ex-Moody Blues), Jo Partridge, and Chris Thompson (ex-Manfred Mann's Earth Band).


During 1978 Philip found time to work with friend Bob Geldoff (BOOMTOWN RATS) doing backup vocals on a BLASTER AND THE HEATWAVES EP under the name the Dublinaires.

1978 also saw Philip working with COOK and JONES (SEX PISTOLS) on the JOHNNY THUNDERS solo album So Alone. This would lead to further colaborative efforts with members of the Sex Pistols. Soon, Thin Lizzy would be found performing under the name the GREEDIES. This started as a joke after some difficulties Lynott had with the IRS because he hadn't paid his taxes in time. The idea was just playing small clubs and getting paid directly afterwards in cash. The original idea was calling the band the Greedie Bastards, but later it was re-named the Greedies. The first show was on the 29th July and was also a test for GARy mooRE who just came in after the departure of BRIAN ROBERTSON in early July. Then next day the band headed for America, leaving BRIAN DOWNEY at home, but that's another story.

The first night featured LYNOTT, GORHAM, MOORE and DOWNEY, along with PAUL COOK and STEVE JONES from the SEX PISTOLS, as well as JIMMY BAIN (WILD HORSES) and CHRIS SPEDDING. Around Christmas of 1978 the GREEDIES again played a couple of Gigs in the UK and also in Ireland. This time featuring (besides the Lizzy gang) BOB GELDOFF and JOHNNY FINGERS from the BOOMTOWN RATS and once again Steve Jones and Paul Cook.

I've read somewhere that the DAMNED's drummer RAT SCABIES claims that he organized and played with a Thin Lizzy/Sex Pistols collaboration at the HOPE AND ANCHOR as a benefit concert for the guvnor who was leaving -- it was the second of two concerts which went out under the banner of THE GREEDY BASTARDS. A live album of the event was apparently later released. If anyone can fill in any more details on this please email me.

The first and only single release by the GREEDIES was recorded late 1979, after Gary Moore had left. Only Jones and Cook survived from the original lineup.

Drugs, alcohol and personality conflicts saw ROBBO (Brian Robertson) depart after the 1978 Summer tour, which included Cleveland Ohio. GARY MOORE was once again brought in to fill the spot for the 1978 Fall tour, which was to include Australia. BRIAN DOWNEY was tired of all the touring by this point, and the thought of Australia was just too much for him. MARK NAUSEEF (drums, Gary Moore sideman) was brought in to replace him, and can be seen in the video of the Australian TV broadcast from that tour.

After the 1978 tour, PHILIP, SCOTT, GARY and a well rested BRIAN DOWNEY met in London and Paris to work on the next album (Black Rose, A Rock Legend, aka Roisin Dubh, 1979). This album features the poignant cry for help "Got To Give It Up" (Lynott/Gorham), about one man's battle with drugs and alcohol.

circa 1978 -- WILD HORSES

Meanwhile, BRIAN ROBERTSON was busy forming WILD HORSES with bassist JIMMY BAIN. Wild Horses was short-lived (circa 1978-1981), releasing only two albums and one non-album release, all of which failed to grab the world's attention, but did garner them a cult following.

circa 1979

In 1979, GARY MOORE again joined the band, apparently intended to be permanently, for the subsequent USA tour but left in mid-tour.

On 4 July 1979, Gary Moore abruptly left Thin Lizzy in the middle of another tour of the US. Years later, Moore said he had no regrets about walking out, "but maybe it was wrong the way I did it. I could've done it differently, I suppose. But I just had to leave."

July 17, 1979: Thin Lizzy officially announced that Gary Moore was no longer in the band and that Ultravox's Midge Ure would be filling in on the remaining tour dates. Moore left the band immediately after Lizzy's July 4th Day On The Green performance in Oakland, California. Without a word, he packed his guitar, grabbed his bags and called a taxi and spent a couple of weeks at Glenn Hughes southern California home.

Upon returning to England later, Moore found the lock on his apartment changed (Lizzy's management was paying the rent). A war of words broke out in the press. With Moore calling Phil Lynott an "unprofessional junkie" and Lynott calling Moore simply "unprofessional". Thankfully, they renewed their friendship four years later. New Waver Ure's short tenure with the band had a profound effect though. Lizzy would soon add a keyboard player and Scott Gorham cut his "trademark" long hair.

According to the July 21st 1979 issue of Sounds the rest of the band did the show as a trio. A spokesperson for Thin Lizzy said Moore had been fired for being unreliable. On July 17th, Moore was replaced by MIDGE URE (on guitar, initially) to complete the tour. Thin Lizzy was opening for JOURNEY and EDDIE MONEY on this tour and required only a 50 minute set, which Midge had to learn virtually overnight. It seems, however that there was not enough time for this restructured band to get together a full 2 hour set in time for their planned headline performance at the Reading Festival. Midge was scheduled to join ULTRAVOX in September as vocalist and guitarist, but that band agreed to wait until Midge completed his tour dates with Thin Lizzy, originally expected to be November 1st, but eventually turning out to be late April of the following year.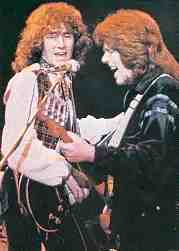 For the tour of Australia and Japan that followed, DAVE FLETT (guitar) was added to allow MIDGE to also play keyboards on some songs, and to allow Thin Lizzy to have triple lead guitar on others. Dave had seen some previous success in MANFRED MANN'S EARTH BAND, being a part of it at the time of their hit single Blinded By The Light (written by Bruce Springsteen).

Around this same time, Midge and Phil managed to find some time in the recording studio to beef up some early Thin Lizzy recordings (Dublin and Things Ain't Working Out Down At The Farm, as well as a few others, probably) for inclusion on a compliation album Continuing Saga of The Ageing Orphans. See my interview with CHRIS P. MANSBRIDGE, 'tape op' on the sessions, recorded under the working title of 'The Continuing Saga of the Ageing Blue Orphans'.

circa 1980

At the end of the Japanese tour DAVE FLETT left, and was replaced by SNOWY WHITE for the Irish tour that followed, after Phil saw him playing in PINK FLOYD's road band at Madison Square Gardens, while they were auditioning potential replacements. Snowy joined in November of 1979 and began touring with them the following Spring. Midge Ure left after the Irish wing of the tour, around the end of April 1980.

An interesting insight into Philip's appreciation of his fans ocurred at a gig, May 5th 1980. The band was playing Glasgow's legendary Apollo when Philip took exception to one of the bouncers basically beating up a young lad at the front of the stage. He stopped the concert, locked himself in the dressing room and demanded that promoter Adrian Hopkins sort it out. Unfortunately Hopkins had sneaked away for Chinese food when the band took to the stage and could not be found. Roadies were sent to search local pubs but didn't think to look in the restaurants. Eventually with the crowd chanting for him, Phil relented and went back on stage. That's respecting your fans!

1980 was a year of change. On February 14th, Philip married Caroline Crowther, the mother of his baby daughter (Sarah), and they had another (Cathleen). In 2003 Philip's son DARA LAMBE shocked the world when he came forward to announce that he was Phil's, till then unknown, son.

Philip's first solo album was released (Solo In Soho or "So Low In Soho" as Phil has been known to say). The album contained the song Yellow Pearl (co-written with Midge Ure, which went on to become the theme song for TOP OF THE POPS for several years. Although the album was released as a solo Phil Lynott project, it featured Thin Lizzy members (Brian Downey, Scott Gorham, Snowy White) as well as some very notable guests (including Jerome Rimson, Midge Ure, Mark Knopfler, Huey Lewis, and more).

Philip also found time to work with TERRY WOODS on a catchy tune called TENNESSEE STUD. Philip had previously worked with Terry in the band ORPHANAGE along with Brian Downey. Terry later went on to join the POGUES. Philip and Terry also appeared on BBC radio in 1980 performing several numbers live, including two versions of Tennessee Stud, two versions of I Don't Know About Love, plus Company Man and possibly a couple of others in what is now regarded as a classic session.

Photo © Copyright 2001 V Watson
Jakson Spires in Ohio 2001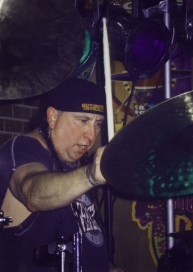 It was also in 1980 that JAKSON SPIRES (then BLACKFOOT, later SOUTHERN ROCK ALLSTARS) was in London with BLACKFOOT as opening act on the SCORPIONS tour. Staying behind to adjust the tuning on his drums one day after a practice session, at one of a group of well equipped rehearsal stages there, a guy came in asking if it would be OK for PHILIP LYNOTT to come in and use the bass amp for a bit. Philip and Jakson had met a year or two earlier in Detroit and a friendship had developed.

Photo © Copyright Wolfgang Guerster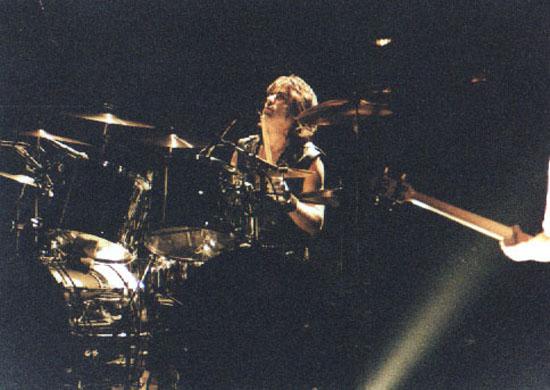 While Phil and Jakson were jamming, MICHAEL SCHENKER, who was in the area to pick up some equipment left there previously, dropped by and of course joined in. A bit later COZY POWELL came by and, finding an extra set of drums, of course had to join in. The resulting session went on for several hours and as Jakson told me, "it was way heavier than anything any of us were doing at the time. It was crushing. It made 'heavy metal' of the day sound like Donny and Marie".
circa 1981

A revised Thin Lizzy toured in support of their as yet unreleased new album (Chinatown, released in 1981). Augmenting Phil, Scott, Brian (Downey) and Snowy was, Darren Wharton on keyboards. Athough Snowy is considered a great guitarist, he received criticism for his lack of showmanship, and the tour was less than exciting. Philip's drug dependency was also likely a major factor.

Photo of Sean and friend © Copyright 1981 Sean O'Connor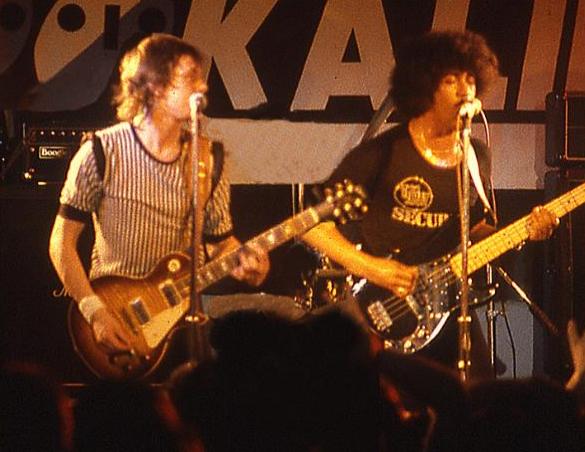 Recently SEAN O'CONNOR wrote to me about the LOOKALIKES, a supporting act on some of the Lizzy tours around this timeframe:
I`m an Irish guitarist,singer and songwriter who has had the pleasure of supporting, and on occasion, playing with Philip and Thin Lizzy. My band, the Lookalikes, were the support act on the Chinatown U.K and Ireland tour, and on the Renegade European tour and Philip invited me regularly to join Lizzy on stage. In fact I played with Philip on his last ever gig in Marbella, where he was on holiday with his mother and children, Sarah and Cathleen. Sean is pictured at left with special guest Philo.

Check out his website to find out what Sean is doing today.

On a related note, Mike Mesbur, the LOOKALIKES' drummer, also played another role in the Thin Lizzy story when he was called upon to fill in for BRIAN DOWNEY who he had to miss a few concerts.

Also released in 1981 was a Vertigo greatest hits compilation (The Adventures of Thin Lizzy) which went gold in the UK, and another new album (Renegade) which failed to capture the hearts of the fans or the critics despite some great songs (Renegade, Hollywood, No One Told Him). The late 1981 Renegade tour, while more successful than the previous one, suffered from Philip's unreliability due to his ever increasing drug abuse. After this tour SNOWY quit the band.

circa 1982-1983

In 1982 Philip's second solo album (The Philip Lynott Album) was released. It included the TOP OF THE POPS theme song version of Yellow Pearl (Ure, Lynott).

Philip also did some touring in support of his album in 1982 on a SOLO TOUR. The support band was made up of: BRIAN DOWNEY on drums, GUS ISIDORE (later in THE THIRD MAN) on guitar, DARREN WHARTON on keyboards, JEROME RIMSON on bass and JIMMY BAIN (ex-WILD HORSES) on second keyboard. *Prior* to this line-up, there was a brief promo tour of Ireland with TREVOR KNIGHT (Auto Da Fe) instead of JIMMY BAIN, and ROBBIE BRENNAN (ex SKID ROW and later in GRAND SLAM) instead of Brian Downey.

During parts of 1982 and 1983 Philip spent some time Producing and performing in the studio with the band AUTO DA FE. Several singles and one compilation album resulted. Around 2001 a live album was issued (Live At The BBC -- Hux Records HUX022) with tracks from two different BBC sessions, including 7 tracks that list Philip Lynott on backup vocals.

Lizzy fans will be interested to know that Auto Da Fe has links with another, recurring name from Thin Lizzy history, according to the record company biography of the band. AUTO DA FE was formed in 1980 by GAY WOODS and TREVOR KNIGHT. Gay was one of five founder members of folk-rock band STEELEYE SPAN (in 1969) and she subsequently worked with long-time musical partner TERRY WOODS in THE WOODS BAND. As Auto Da Fe, Gay Woods and Trevor Knight worked solidly in Ireland with only a handful of English live dates. Among these are the two BBC radio concerts included in the Hux release. The presence of THIN LIZZY supremo PHIL LYNOTT on one of these BBC concerts reflects his willingness in the early eighties to engage in different projects. He produced the band's first three singles. Auto Da Fe released their one proper album ('Tatitum') in 1985 and this included all of the band's six single A-sides to date. Gay Woods then retreated to Ireland to raise her daughter. In 1994 she received a call to rejoin Steeleye Span. She appeared on three of that band's studio albums ('Time', 'Horkstow Grange' and 'Bedlam Born').

In March of 1982, JOHN SLOMAN (vocals, ex-URIAH HEEP) joined with JOHN SYKES (guitar, ex-TYGERS OF PAN TANG), NEIL MURRAY (bass), TIM TREADWELL (guitar), GRAEME PLEETH (keyboards) and JOHN MUNRO (drums) to form a band known as BADLANDS. In addition to recording some demo tracks they played a few gigs, including one at London's Marquee. In May 1982 the band called it quits, and soon after, SLOMAN and MURRAY teamed up with GARY MOORE.

Also in 1982, Philip worked with John Sykes on John's 1982 single Please Don't Leave Me along with BRIAN DOWNEY, and DARREN WHARTON.

With the lack of success of Renegade and his latest solo album, and the apparent excesses rampant in the organization, Thin Lizzy was essentially on the verge of bankruptcy, too broke to even pack it in. To remedy this, John Sykes (guitar) was brought in to replace Snowy and a 1982 Thunder and Lightning Farewell Tour and an album (Thunder and Lightning, 1983) were planned, primarily, apparently, to raise enough money to wind things down.

As it turned out, the THUNDER AND LIGHTNING album and tour were extremely successful, and featured what some consider to be some of the band's best work in years. The band went out in a blaze of glory. The tour lasted nearly a year, and featured a finale at the Hammersmith Odeon with some "special" guest guitarists joining SCOTT and JOHN. The "Farewell Concert" featured guest appearances by BRIAN (ROBBO) ROBERTSON, GARY MOORE, and ERIC BELL performing with PHILIP and the band. The double live album (Life, 1983) includes this highlight from the tour, but its delayed release failed to cash in on the excitement of the moment. I am not alone in feeling that the recording "mix" of the album left something to be desired, although (as the CD liner notes mention), care was taken in the "stereo-mix" positions on the album to capture their stage positions".

circa 1983 - BLUE RUSSIA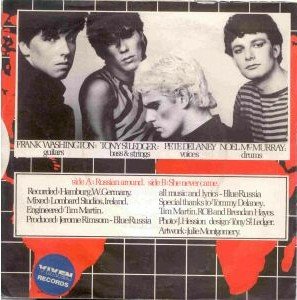 In 1983, Phil Lynott and Jerome Rimson produced the first single for a Dublin band BLUE RUSSIA. Check out my interview with Noel McMurray, the drummer for the band for more info.

circa 1983 - THREE MUSKETEERS

July and August of 1983 saw a break in the Thunder and Lightning Tour, and BRIAN DOWNEY, JOHN SYKES and PHILIP LYNOTT took the opportunity to fit in a few gigs as THE THREE MUSKETEERS with MARK STANWAY (whom Phil has jokingly introduced as "John's brother" because they looked so much alike) joining them on keyboards, and DOISH NAGLE on guitar. They did mostly covers of Thin Lizzy songs and Philip's solo album tracks. The band was short-lived, but was probably only intended as a trial run for Phil's next band, in 1984, GRAND SLAM.

Thin Lizzy hit the road again and played their last concert in the UK at the Reading Festival on August 28th, 1983.

Their FINAL concert with Philip Lynott happened September 4th, 1983 in Nuremberg.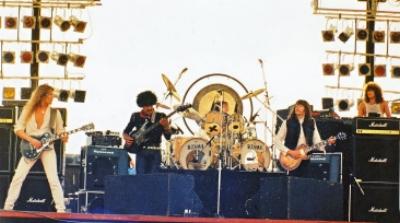 Monsters of Rock, September 4th 1983

Photo © Copyright 1983 Wolfgang Guerster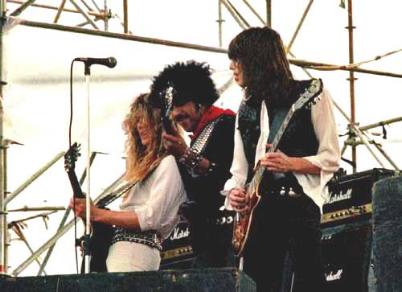 Monsters of Rock, September 4th 1983

Photo © Copyright 1983 Bernd Mueller

Coincidentally, Motorhead were on the bill ...
at that time Brian ROBBO Robertson was with Motorhead.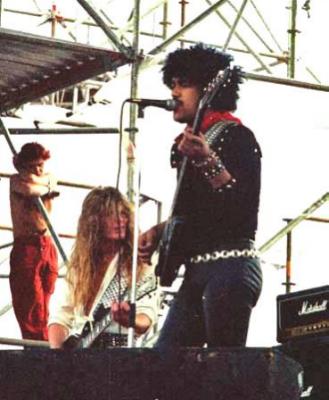 Notice BRIAN (ROBBO) ROBERTSON, then in MOTORHEAD,

looking on from the wings.

Photo © Copyright 1983 Bernd Mueller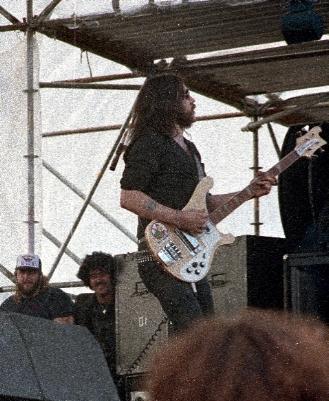 When Motorhead were on stage, you can see Phil backstage
grinning because people were shouting and screaming for Lizzy,
while Lemmy (in photo) and Motorhead were pissed completely about this.
Photo © Copyright 1983 Bernd Mueller

Somewhere along the line Philip found time to Produce a track for THE RESISTORS (Tim McStay and Paul O'Reilly), which he later mixed down at the famous ABBEY ROAD Studios.

Also around this same time Philip recorded with ROY WOOD as THE ROCKERS. Both tracks on the resulting single and EP were Produced by Philip and Roy.

Following the demise of Thin Lizzy, Philip's heroin use continued, perhaps even more openly. Caroline finally had had enough and left him, taking the children with her.

1984 -- GRAND SLAM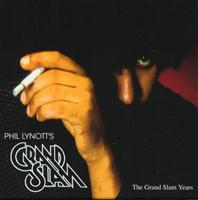 Philip's next band was GRAND SLAM. I've been told that he choose the name GRAND SLAM for his band because his daughter Sarah's favourite movie was Bugsy Malone in which there was a song with the line "Fat Sam's, GRAND SLAM, speakeasy". And it was a play on THIN Lizzy . (Thanks Paddy).

GRAND SLAM's, debut performance was April 7th, 1984. Joining Philip (bass/vocals) were: Laurence Archer (guitar), formerly with WILD HORSES, Robbie Brennan (drums, former SKID ROW member), Doish Nagle (guitar, bass), and Mark Stanway (keyboards). Apparently Phil's real intention was to form the band with the same lineup that was featured in The Three Musketeers, but John Sykes left to join up with Whitesnake, and Brian Downey also dropped out, before the live performances began. Brian was, however, the drummer on the studio demo's recorded during the initial stages of the band, to be replaced by Robbie Brennan when the band started touring.

GRAND SLAM's performances were well received and included a number of powerful new Philip Lynott songs (including Breakdown, Nineteen, Crazy, Dedication), but finding a record label interested in a known drug addict going through a mid-life crisis seems to have been an impossible task.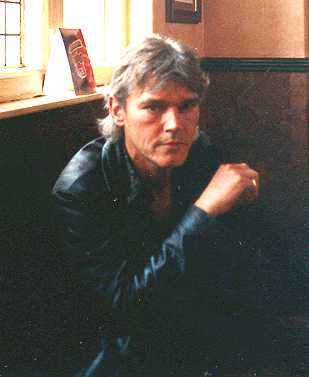 1984 also saw Philip, and Mark Stanway, work on the ROBIN GEORGE solo album Dangerous Music.

In 1984 CLANN EADAIR released a moving tribute to the late SANDY DENNY (Fairport Convention and more). Philip wrote the lyrics and sings the lead vocal on this recording.

1985 -- post Thin Lizzy

In 1985 Philip again worked with Robin George (guitar) and Paul Hardcastle (keyboards, production) and re-recorded and released a powerful version of Philip's powerful song Nineteen.

Also in 1985, Philip did some live guest appearances as well as some studio work with Gary Moore, including Military Man and Out In The Fields released that year on twelve inch vinyl EP. The latter song was also included in the UK version of the 1991 Thin Lizzy greatest hits package Dedication, and later on the 1996 greatest hits package Wild One.

It is unclear at this point exactly when it was recorded, but in 1986 SILAS RAT was released by FREDDIE WHITE. Philip sang backup vocals on both tracks and Arranged the A-side.

In November of 1985, just weeks before his death, Philip began work in a studio in San Francisco (with members of the Huey Lewis band) on what was intended to be his third solo album. Material was believed to include Can't Get Away, Still Alive and One Wish and these at one time were thought to be his last known recordings. In an open letter posted on the HLN website in April 2011, Johnny Colla discusses these sessions and the fact that "One Wish" was NOT recorded at them.

Since that time it has come to light that Philip apparently did some recording with guitarist STEVE JOHNSON in mid-December 1985, just days before he collapsed. Although details of the session(s) are not well documented at this time, it is known that they worked on a song called REVOLUTION which later appeared in another form, by ROBIN GEORGE, as Crying Diamonds, on the tribute album Spirit Of The Black Rose.

Phil and Steve, as part of these same sessions, also recorded a version of the song NO MORE, a variation of one he had been doing with the Three Musketeers, circa 1983, called LOOK IN THESE EYES.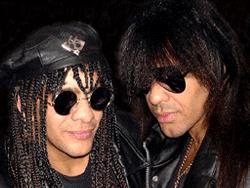 DEZ BAILEY (Bailey Brothers, Baileys Comet) recently provided me with further background on this song. Dez told me: I know many Lizzy fans are interested in 'Revolution' and I noticed you mentioned the song. Well let me give you the facts surrounding it. I worked with STEVE JOHNSON in the 90's and he played me a demo of a song he had worked on with Phil before he died. There weren't any arrangements and just a sketch of a chorus it was called 'Revolution'. I tried my hardest to use as many of Phil's vocal melody ideas and phrases as possible. I re-did the arrangements, wrote the lyrics and recorded it. It's on the album 'Judgement Day' released on the Frontiers record label. I also wrote a tribute song called "Wild One" I haven't heard a song dedicated to Phil in this way and believe most Lizzy fans will love it. Its track 10 on the album.. Click for more info on Dez and Mick and the Bailey Brothers.

MYTH ... Making Love From Memory

One myth, that I can hopefully clear up for you right now, was that Philips third solo album was actually released, under the name of MAKING LOVE FROM MEMORY. After much research by various people I think it's pretty conclusive that a typographical error in a record industry reference manual called PHONOLOG caused this misconception. In fact, Philip's name appeared IN ERROR beside the listing for the LORETTE LYNN box set Making Love From Memory released as MCA MCA5354 in September 1982. Apparently, the LL album had one single, the title track, which did not sell well, and apparently went out of print shortly thereafter.


late 1985, early 1986 --- losing Philip

Around this time Philip spent some time with musician Colbert Hamilton, apparently writing and recording rough demo tracks at Phil's home studio in Richmond. In a recent inverview by Paul Murphy,Colbert discussed this period briefly, followed by playing of one of several versions of a rough demo of the song "Do You Want To Rock" (written by Colbert) and described by Colbert as the earliest, and rawest version. It features drum machine programmed by Phil, along with Phil playing bass , Scott Gordon (could he mean Scott Gorham?) on guitar and Colbert on lead vocal.

Photo © Copyright 2004 Rick Jacobson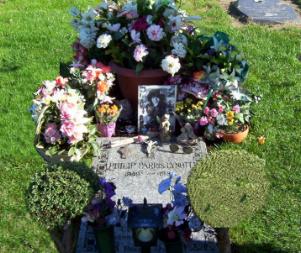 Sadly, Philip was found unconscious in his home on Christmas Day 1985, and passed away on January 4th, 1986 with his mother (Philomena Lynott) by his side at a hospital in Salisbury, Wiltshire, England. Click here to visit his gravesite.

Philomena's book (Hot Press books) provides an excellent insight into Philip's early years. In 2001 a movie based on the book was announced, to feature Gary Dourdan (CSI - Las Vegas) as Phil and Holly Hunter as Philomena. Exactly why the movie has been delayed is unclear, but it is currently considered doubtful that we will ever see it.


Fiachra Trench


Be sure to check out 'Thoughts on Philip by Pals'

Mark Putterford's book 'Phil Lynott: The Rocker' is also considered to be an important source of information about Phil.

See also the November 2000 release I Am Just A Cowboy.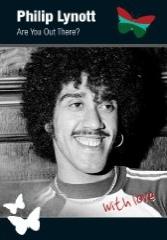 Thin Lizzy's most recent chart success came 5 years after Philip's death. Scott Gorham and Brian Downey went back into the studio and through the magic of modern technology were able to replace the drum and guitar tracks on a studio recording of DEDICATION that Philip had started (probably with GRAND SLAM) but never released. The end result was the recording of Dedication which became the title track of a greatest hits CD (Dedication: The Very Best of Thin Lizzy, 1991) and companion video. Some sources credit Gary Moore as also being involved in this recording, but all available information indicates that Scott Gorham did all the guitar work. Although Gary was invited to participate, the project was apparently rushed to completion before he could take part.... he is said to have learned of this when he heard the final version on the radio while he was busy working out ideas for the song. Also, song writing credits for this song are generally listed as LYNOTT but in actual fact it is more likely that it was written by LAURENCE ARCHER (GRAND SLAM) either by himself or possibly in conjunction with Philip.

In 1993 Bobby Tench performed as the leadsinger in the An Evening With Thin Lizzy Band which featured Brian Downey, Brian (Robbo) Robertson, Doish Nagle & Dough Brookie. They did a small tour in Ireland only.

In 1994 a NEW Thin Lizzy went on tour as A TRIBUTE TO PHIL LYNOTT. The band featured John Sykes (BLUE MURDER), Scott Gorham, Brian Downey, Darren Wharton, with Marco Mendoza (BLUE MURDER) on bass.

That same year BLUE MURDER released a tribute to Philip Lynott album. This live album was released in Japan only and was called Screaming Blue Murder.

In 1996, yet another greatest hits album was released. This one, Wild One, was intended to include a new vesion of the title track, recorded in much the same way as the song Dedication had been, but apparently the master tapes were stolen and as a result the title track does not even appear on the album. In Japan only, this was issued as a 2 CD set, featuring an extra disk of previously released but very rare live recordings, mostly b-sides and promo items.

Photo © Copyright 2004 James Taylor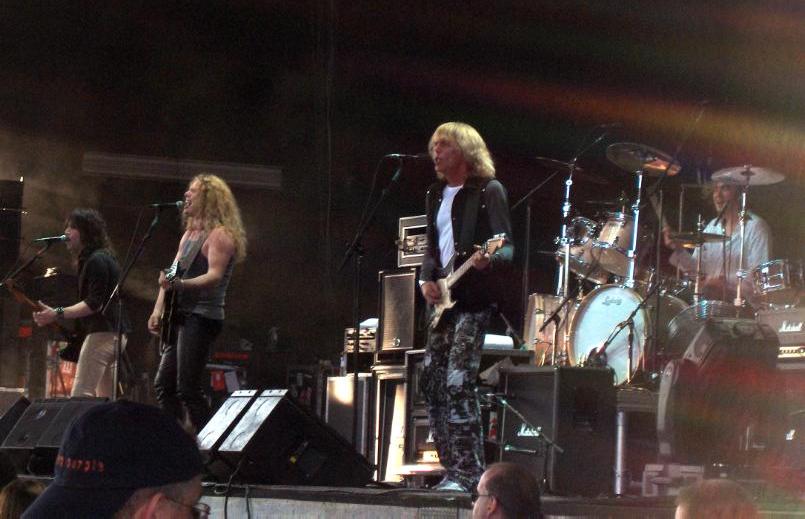 In 1998 and again in 1999 the NEW Thin Lizzy went on tour IN TRIBUTE TO PHILIP. The band featured almost the same lineup as in 1994: John Sykes (BLUE MURDER), Scott Gorham, Darren Wharton, with Marco Mendoza (BLUE MURDER) on bass, Brian Downey on drums in 1998.

In 1999 they toured again as Thin Lizzy, but with Tommy Aldridge on drums. Since then they have continued to keep the name alive, touring again 2000 and 2001. Click to see what the fans say.

Scott and John have continued touring under the Thin Lizzy name, with changing additional musicians, in 2002 and 2003. In 2004 they have been touring in the USA and Canada, opening for DEEP PURPLE, and on one leg of the tour, JOE SATRIANI. For this tour RANDY GREGG is on bass and MICHAEL LEE on drums.

In December 2000, yet another greatest hits album, The Boys Are Back In Town - Swedish Collection, was released. This time it was extremely well done! It includes a bonus second disk with rare tracks and B-sides and a note from Philip himself. Initially released in Sweden only, (with liner notes in Swedish), it may be released (without the bonus disk) in other countries eventually.

In early 2002 a 4 cd boxed set was released, apparently in the UK only. This had been promised by Thin Lizzy management in 1997 as a 1998 release and after many missed release dates, various changes in track listings and cover art, it finally materialized.

2003

In 2003 Philip's son DARA LAMBE shocked the world when he came forward to announce that he was Phil's, till then unknown, son. The late Gerry Ryan interview him on his show in April of 2003 and Dara explained how he had set out on a quest to find his biological parents, circa 2000, and was surprised that his dad turned out to be Phil Lynott.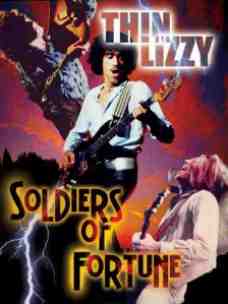 Several years in the making and most recently scheduled for release in early 2004 is another book, this one by ALAN BYRNE tentatively to be called Thin Lizzy: Soldiers Of Fortune. On the left is the preliminary art for this book.

August 2005 --- the Statue

August 19th, 2005 saw the unveiling of a statue in tribute to Philip. Funded in large part by fans, this statue has been almost 2 decades coming. The life size statue of Phil is situated on Harry Street outside one of Dublin's most famous rock venues - Bruxelles. Hear the details of one fan's journey to be there.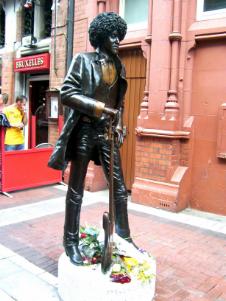 Photo © Copyright 2005 Rick Jacobson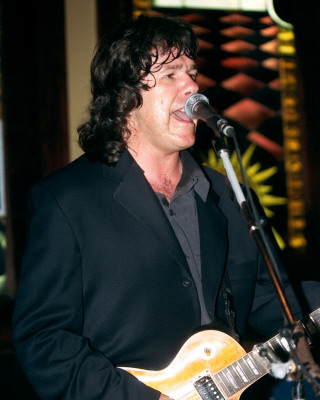 Sadly, and a devastating shock to fans, Ex-Thin Lizzy guitarist GARY MOORE passed away on February 6th 2011. The former Thin Lizzy guitarist died at a Costa del Sol hotel. Moore (age 58), from Belfast, is understood to have been on holiday at the time of his death, and planning to work on a new album on his return.
Moore played with Thin Lizzy for several periods as well working separately with the band's lead singer Phil Lynott, who died in 1986 after falling into a heroin-induced coma. Moore worked with a number top artists, including Bob Dylan and the Traveling Wilburys, Ginger Baker and Jack Bruce, and ZZ Top to name just a few. He had a string of top 40 hits in the 1970s and 1980s including Parisienne Walkways in 1979 and Out in the Fields in 1985.
Thin Lizzy is reborn and morphs into BLACK STAR RIDERS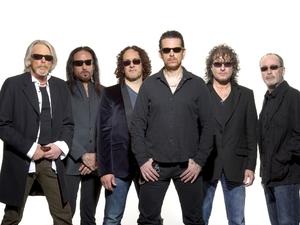 Photo credit Ross Halfin


In the spring of 2010 it was announced that Thin Lizzy had reformed and would be back on the road for a European Tour.

The new line-up is Scott Gorham, guitar (Thin Lizzy 1974-83), Brian Downey, drums (Thin Lizzy 1969-1983), Darren Wharton, keyboards (Thin Lizzy 1980-83), Viv Campbell, guitar (ex-Def Leppard), Marco Mendoza, bass (ex-Whitesnake) and fronted by Ricky Warwick, lead vocal/guitar (ex-The Almighty and solo artist). The tour began in early 2011and by all accounts they have been well received, so well in fact that some North American dates have been added.

In May 2010, Thin Lizzy lead guitarist Scott Gorham announced the latest incarnation of the group, which had toured sporadically with various line-ups since 1996, after the death of band leader Phil Lynott in 1986. This marked the return of the original drummer Brian Downey and longtime keyboard player Darren Wharton, joining Gorham, bass guitarist Marco Mendoza, and vocalist and occasional guitarist Ricky Warwick. The other lead guitarist role was initially filled by Vivian Campbell, then by Richard Fortus, before Damon Johnson joined the band in August 2011. As the band toured throughout 2011 and 2012, they composed new material for possible release as a Thin Lizzy studio album, and demos were recorded in June 2012.

Releasing the new material under the Thin Lizzy banner proved to be a very contentious issue and eventually did not happen. In October 2012, it was announced that the new material would NOT be recorded under the Thin Lizzy name, and that a new band name would be used for the new songs. According to Gorham, this was "out of respect to Phil Lynott and the legacy he created", though he confirmed that the new material would feature the classic Thin Lizzy sound. He later confirmed that the decision was taken by himself and Downey, with the support of the other members of the band, and that the Thin Lizzy estate (controlled by Lynott's widow Caroline) had also been uncomfortable about new Thin Lizzy studio recordings. Warwick has acknowledged that a significant portion of Thin Lizzy fans were also against the idea of Thin Lizzy studio recordings without Lynott. He later confirmed that he had been troubled by the idea of using the Thin Lizzy name, and that as a fan, had the band recorded an album under the Thin Lizzy name with another singer, he would have been against it.

As the new material was being written, it became clear that Downey and Wharton would not be involved when the final recordings were made. Downey required a break from the heavy touring schedule, and Wharton wanted to return to his own band Dare, and to work on a film project. Warwick confirmed, "Brian and Darren just don't want to be on the road 150 days a year, and that's completely understandable. But we do."

Gorham has stated that Thin Lizzy will still perform as a band in the future: "Thin Lizzy isn't gonna die," he said. Many question that this will actually happen, though.

With reference to the much-publicised Lizzy "farewell" tour in late 2012, Warwick confirmed, "All that 'farewell' meant is that we're not going to do 150 Lizzy shows a year... those were just the last shows for a while." Thin Lizzy completed a short tour of Australia in March 2013, with Downey and Wharton as part of the line-up.

Black Star Riders

Damon Johnson has revealed that Gorham was against any name for the new band that was related to Thin Lizzy, "because this band has to stand on its own". In the end, Warwick named the band after a gang of outlaws in the 1993 western film Tombstone, and the new name was announced on 20 December 2012.

In 2013 Black Star Riders released an album "All Hell Breaks Loose" which won over many of the skeptical Thin Lizzy fans. In 2015 they released their 2nd album "The Killer Instinct" which was also quite well received.

As a musician and songwriter myself, Thin Lizzy appealed to me on several levels. As a listener, I loved their sound, particularly the way they could blend "soft and pretty" with "hard and heavy", all in the same song (Cowboy Song for example). As a guitarist, I was very impressed with their implementation of the dual lead guitar sound. Rather than have two guitar personalities battling each other for the spotlight, Thin Lizzy's guitarists performed with the grace of a synchronized swim team. As a songwriter, I was often touched by the emotion Philip Lynott could capture and convey through song. I appreciated his sense of humour and wit, and his ability to "play with words" to get just the right sound or effect, even in such serious songs as Got To Give It Up. His sense of humour was often heard in his chat between songs in concert, or in radio and TV interviews. For an insight into Philip and Thin Lizzy in his own words, as well as those of his mother, Eric Bell, Scott Gorham and various other people who knew or worked with him, be sure to check out I Am Just A Cowboy.

As evidenced by the incredible number of high quality THIN LIZZY web-sites and TRIBUTE bands around the world, all these years later, Philip Lynott and the band THIN LIZZY have been and still are a major influence on other bands, and on music lovers the world over. Click CLICK here for some of the books by and about Phil Lynott and Thin Lizzy.
*** Special Notes ***
Special thanks to Lars Brundin,
Sue Peters (who ran the Thin Lizzy Supporters Club),
Sue Goulding at homeland (the Midge Ure site), the BAILEY BROTHERS and
SEAN O'CONNOR (formerly of the LOOKALIKES)
for the kind use of their photos
and all their support.

Special thanks also to Morris Ballard, Rik Walton, Steven Springs,
Rick Jacobson, Claus Johansen and Magnus Berglund for the kind use of their photos.

Also special thanks is owed to the many fans, musicians
and webmasters from around the world who have provided information and support.

Don't miss my photo gallery of Thin Lizzy related

photos

and my massive illustrated THIN LIZZY DISCOGRAPHY

THE ultimate MP3 and MIDI search engines, and several Thin Lizzy files.

Find THIN LIZZY LYRICS.

One stop shopping: MUSIC STORES from around the world!

For more information on the history of THIN LIZZY, check out Bobby Shred's Thin Lizzy Tribute Page

While I have made every effort to ensure the accuracy of this information,
I provide it "as is" for your information only.

The page is updated/corrected as new information becomes available.



Thanks to (now defunct) Planet Lizzy for some additional info.

If you know of any errors or omissions please contact me via e-mail.

Goto MY HomePage