jt's interview with
DEZ BAILEY
of the BAILEY BROTHERS
May 2005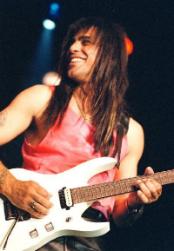 DEZ BAILEY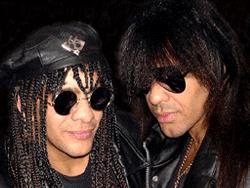 Mick n Dez

Interview © Copyright 2005 James Taylor - All rights reserved

Photo's © Copyright BAILEY BROTHERS except as noted.

jt:
Hi Dez. Thanks for taking the time to time to chat with me and for sharing these great rare photos. Perhaps you could give us an overview of where you come from. I'm sure that I speak for a lot of music buffs here in North America when I say that 'the BAILEY BROTHERS' are somebody we've heard of, but actually know very little about.

DEZ: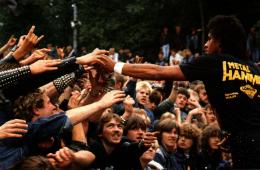 Let me introduced my self to you and your visitors. I'm DEZ BAILEY one half of the BAILEY BROTHERS (Monsters Of Rock, MTV, Metal Hammer, BAILEYS COMET etc). To us the fans have always been number one. The music was and still is our inspiration. It's fair to say that MICK Bailey is the driving force behind the BAILEY BROTHERS, but whatever we both strive to do we work well as a team. We have always helped bands get noticed and even dropped our selves out of a link in our TV show to feature unsigned bands. Mick used to spend every penny on import albums. We were playing BACHMAN TURNER OVERDRIVE's Not Fragile album, RUSH, ANGEL, and who can forget TRIUMPH? Mick had a great ear for rock. He was the knowledge and I guess I was the voice as I did most of the waffling at the time. We were performing on a regular basis with DEF LEPPARD, SAXON, MOTORHEAD etc. as the NWOBHM was Unleashed.

with DAVID LEE ROTH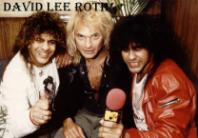 We injected new life into an old scene, we combined the classic ZEP and PURPLE with KISS, LEGS DIAMOND, TED NUGENT etc. We even played music from a French band called TRUST. We just played global rock. Thankfully most of TNWOBHM bands were cool. Many fans still rave about the TV show we did and we gave the ball a right kicking. I'm proud to be part of a scene that saw no black or white just the music. By the way, I checked your site. It rocks.
MICK with JOHN SYKES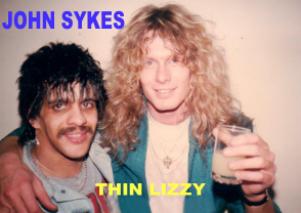 jt:
Thanks. I understand that you and MICK have a long standing association with PHIL LYNOTT and THIN LIZZY.

DEZ with GARY MOORE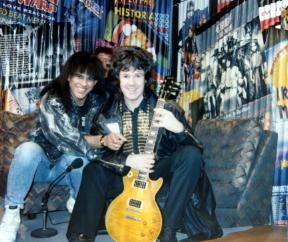 DEZ:
The Bailey's go wayback with Phil and Lizzy.We were on the bill with him when he was in GRAND SLAM, and also when he was on a TV show we did in 1985 called ECT. We worked with him just before he died. We have met many Lizzy members on different occasions over the years and have always got on with them well.
We first met Phil when he actually sent his roadies to find us and bring us back stage. Everyone had told him we looked more like Phil Lynott than he did (we did back then). It was like meeting our big brother, he told us he had waited years to meet us and had heard so much about us. I loved the guy he carved an opening for us at the start. All our early press called us the two Phil Lynott look alikes.
with JOHN SYKES and PHIL LYNOTT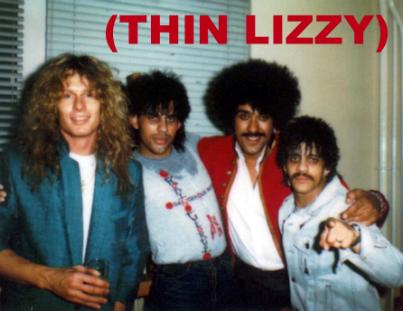 jt:
In the weeks prior to his death Phil was working on what was intended to be his third solo album, with HUEY LEWIS' band. More recently I've discovered that he later did some sessions with STEVE JOHNSON, possibly just days before he collapsed, including a song called 'Revolution' as well as a reworking of a song he had been doing with his THREE MUSKETEERS called 'Look In These Eyes'. I understand that you have some history with Steve, too.
DEZ:
I know many Lizzy fans are interested in 'Revolution' and I noticed you mentioned the song. Well let me give you the facts surrounding it. I worked with STEVE JOHNSON in the 90's and he played me a demo of a song he had worked on with Phil before he died. There weren't any arrangements and just a sketch of a chorus it was called 'Revolution'. I tried my hardest to use as many of Phil's vocal melody ideas and phrases as possible. I re-did the arrangements, wrote the lyrics and recorded it. It's on the album 'Judgement Day' released on the Frontiers record label.
We were on the road ten years before we could say we were up there in the big league. We never changed not for TV, Radio or anything. Always still played live so they couldn't say we thought we were too big to play their club. We tried to build a band on that basis but bands are not like that. The minute we got signed STEVE (Johnson) was trying to give the orders out but in the end he just blew it. I don't think he has anything in his back catalogue of work that can match the performance I got out of him in the studio. He was the hot new UK guitar player. I can see why Phil would be interested but Phil was ill at the time.

jt:
I've heard that you were influence by Phil and his music to the point that you once wrote a song in tribute to him. Is this true?

DEZ:
I wrote a tribute song called 'Wild One'. I haven't heard a song dedicated to Phil in this way and believe most Lizzy fans will love it. It's track 10 on the album. I may re-record a live version in the near future.

with Brian ROBBO Robertson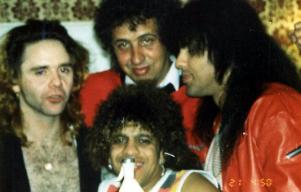 Another point worth mentioning is that we originally asked BRIAN ROBERTSON, back in 1987, if he would do a song with us for Phil? We were under the same management as Robbo at the time and used to see him regular. As it turned out, it never happened. To his credit Robbo said "yes", but we split from his management team and sort of lost touch.
Looking back I'm pleased we waited so long to do 'Wild One'. If we did record a song with Robbo back then they would have just said that its all Brian Robertson's work and the Bailey's didn't write any of it. I had to prove myself as a musician and song writer even though we were known in Europe. It was a shame STEVE JOHNSON couldn't have sung on that song and the album as at the time he was a really good vocalist and guitar player. Maybe the only vocalist that delivered my vocal melodies the way I wanted them to turn out. For some reason he went behind my back and upset the label who refused to let me use him. "That's life" (as Frank would say).
One time when we were doing the Monsters Of Rock festival, Brian was staying in the same hotel as the Bailey's. He was drinking with us in the bar until we drank it dry. He said "don't worry lads I have a secret stash". He went out side where he had hid three bottles of Pills lager. We started to drink them in his hotel room when a slug came out of Brian's bottle. He was shouting at the top of his voice in the early hours of the morning. "Look a wee little FXXXXXg beastie". He pulled it out and threw it in the bath. He carried on drinking from the bottle and another one slid out and off he went again. "Another FXXXXXg wee beastie". The manager came to tell us to keep the noise down but we said to him "hey what dump are you running here?" We are infested with slugs" he apologised and removed the slugs and left us alone.
with LAURENCE ARCHER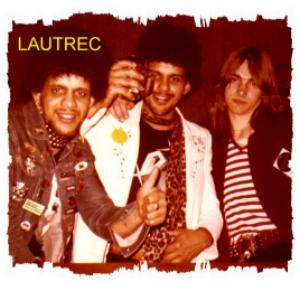 jt:
Over the years it's seems you've interviewed and met most of the giants of rock, sometimes before they were well known. Who comes to mind that's related to Thin Lizzy?

DEZ:
We've known LAURENCE ARCHER from way back to his LAUTREC days with REUBEN ARCHER, as well as when he was with Grand Slam, of course. His brother Reuben used to put us up at his house in London when we first were playing in the capital. Oh by the way, did you know my first band could have featured LAURENCE ARCHER and MARK STANWAY? We had a meeting at Mark's house and I played them the demo's. We talked about it but to be honest, at that time the funds to pay the likes of Archer and Stanway were not there from the label. I would have loved to have played with them though. I love the guys. Mark has always had time for the Bailey's and was always pulling Phil's leg about his brothers from Sheffield.
with ROBIN GEORGE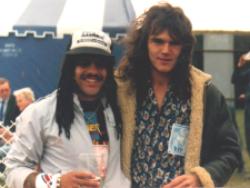 DEZ:
We got ROBIN GEORGE heard on BBC Radio One when we introduced his song Heartline to Tommy Vance. He played it the following Friday on his show.

jt:
Lizzy fans will know Robin's guitar work from Phil's solo track 'Nineteen'.
with GARY MOORE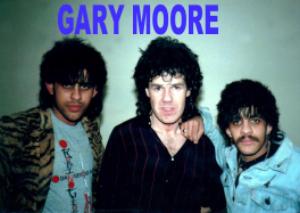 DEZ:
GARY MOORE we interviewed for our show on MTV Europe. The photo with Gary is interesting because I'm plugging ROBIN GEORGE with the T Shirt he gave me.


To My Brothers!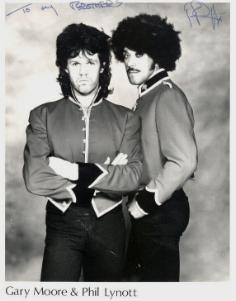 Here's something that is very special to our family ... the last thing we had signed from Phil. If you read it then you can see it says "To my brothers" and signed by Phil. That's hard to explain unless you are black but it really was like having a big brother. It was a mutual respect for succeeding in the rock world with a black face. We were by no means best buddies but we were soul brothers for sure. He was great to be around.
We saw PHIL just before he died . The TV show we were doing was called ECT Channel 4 1985. We were instrumental in getting GARY and PHIL on the show as the producer utilised us as researchers and we helped shape the line up as the show progressed. It was a live show with 4 bands appearing on different stages. We were there every week so had our own dressing room.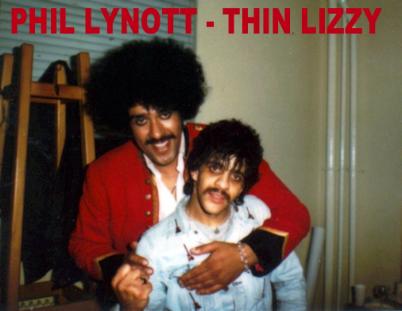 Phil came to us and asked us for a favour. He wanted to have a lay down on our bed before the show started. We gave him the key and man did he look ill. He was really struggling for breath. The photo you have is the last time we saw him alive and one that we cherish. Phil returned with our key and went on to perform what GARY MOORE described to us as "The best ever live performance of 'Out In The Fields'. Phil came up to our dressing room after the show. He really did enjoy being around the Bailey's.
with DARE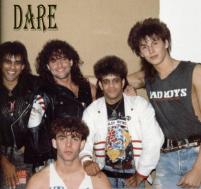 DEZ:
DARREN WHARTON's post-Lizzy band DARE is another band we go way back with.


Speaking of my association with Thin Lizzy music ... I nearly forgot to mention that the first song I ever sang live was "Rosalie". I play guitar and only usually do a guide vocal for the vocalist to follow.
DEZ with PARRIS
Photo © Copyright RAYMOND WRIGHT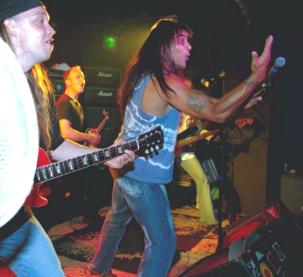 I also sang it at the Birmingham Vibe with the band PARRIS and the gig we arranged for them at the Boardwalk in Sheffield. We attended this years Birmingham Bash ... in fact I'm still recovering from the weekend. I met PHILOMENA again. She's fantastic.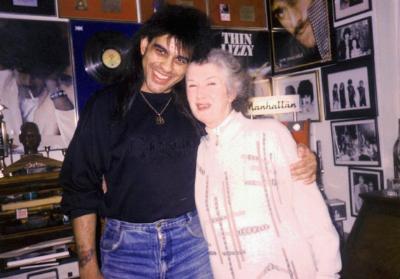 Philomena was the first person outside of our immediate family to hear my music. We went over to her house in Dublin as I wanted her to be one of the first to hear the song I had written for Phil. (I guess I also wanted her approval) . Mrs Lynott took me around the house and let me look at all Phil's things. I promised her the 'Wild One' song would come out on an album one day and I would always try to keep his memory alive. I eventually could give her a copy of the album 5 years later. It was a long road to 'Judgement Day' (the album). As you can see its all pretty genuine and from the heart. I was really pissed off that the label wouldn't fund us going to play in Ireland as I really wanted the Lizzy fans to hear the songs relating to Phil e.g. 'Revolution', 'Emerald Isle' and 'Wild One'. I may release some of the demo's I did with Steve at some point as he sung a better version for me than the one on the album. I saw your piece on STEVE JOHNSON, well actually its just a plug for GUNS N OATCAKES. He should have done much better but was his own worst enemy. I feel for the guy. I know he worked his balls off to build up his gear just to have it stolen.
jt:
Actually my piece on STEVE JOHNSON was inspired by an email from his son. I tried contacting Steve to do a more comprehensive write up but unfortunately he never responded.
DEZ:
Pleased his son is showing an interest. He is a nice kid.
BAILEYS COMET with TONY MARTIN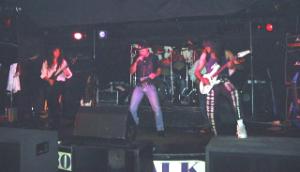 DEZ:
About the vocals on the album .... in fairness to Steve's brother FASKER, he was a bass player in SAXON not a front man/vocalist. He helped me out and it was appreciated. TONY MARTIN from BLACK SABBATH fronted BAILEYS COMET on the last tour so I guess that proves my song writing and playing is up to a pretty decent level. Hey did I tell you we have another connection? Tony Martin (Sabbath) says he wrote 'Valley Of The Kings' with JOHN (SYKES) in his home in Blackpool. When Bailey's Comet went out on tour we played it live. It's also one of my favourite songs.
jt:
So Dez, what's the future for Baileys Comet?

DEZ:
Regarding the future of Bailey's Comet, The Bailey's have just put a studio together to start demo'ing the next album. I'm not sure as to the direction but it is really wierd how the Celtic feelings keep dragging me back like a magnet. I think I have made a statement with the first album and don't want to be a Lizzy clone as we have influences from 3 decades of rock. Just keep an eye out for the Bailey Brothers and we hope to share a Guinness or three with you all at some stage in life!

We really need the Lizzy fans to know where we are coming from as people. There is more than enough proven links with Phil and the band to justify releasing 'Wild One' and finishing off 'Revolution'. Most of these photo's have never been published so we hope you and the fans enjoy our pictorial trip down memory lane. Hopefully they will all appear next year in a book we are working on that will feature many famous names and some who didn't make it but were still a part of rock's history.

jt:
Thanks. How does the music scene today compare with when you were first starting out?

DEZ:
To be honest rock is pretty much back where it was in the late 70's when the old school bands were dying out and only the little shit holes would let you play their crap venues. It's picked up again in the pst couple of years as many bands are celebrating their 25th Anniversayr. Back then fans were a bit stuck in the past and that's really how and why we came about.

We started hiring out halls and playing good rock until we had a following etc. This was three years before we were the BAILEY BROTHERS. We were Mick and Dez Bailey's Heavy Metal Disco (Thank God we lost that one quick!). A top promoter in London wouldn't stick that on his poster so said "I will just put Bailey Bros for short". And the rest is history.

The point I'm getting to is that after the big Jovi, Leppard explosion it's back down to reality. Dedicated fans like you and me are doing so much to keep the scene alive. Ok to be fair when I was 18, I thought the old HAWKWIND fans were lost in a time warp. I suppose young kids today think the same about us. Everyone thinks it's better in the States, or Europe or Japan. It's no better anywhere. You have to have a name or some serious financial backing to sell the product.

James, I know how hard it is and time consuming it is running the site. Some people come home and chill. Others have to start again, like you running your site. At least you can now say you have had exclusive things on there that know one else has. The other thing to remember mate is that you are capturing history every step of the way. Keeping Phil's memory alive and helping bring new fans to his music that will keep it alive when we are pushing daisy's up. Good on ya mate.
Special thanks to the Bailey Brothers for sharing their time and thoughts and rare photos with me and for allowing me to share them with you.
james
For more on the BAILEY BROTHERS check out
the Bailey Brothers' Official Fan Page
on Facebook
Photo's © Copyright BAILEY BROTHERS except as noted.
This page brought to you by:


THE real CANADIAN James Taylor, aka jt.
To e-mail me

Thin Lizzy

Counting Crows

jt's EMALL

Search

Other JT

MP3

Interview © Copyright 2005-2011 James Taylor - All rights reserved
Photo's © Copyright BAILEY BROTHERS except as noted.
*** Special Note ***
While I have made every effort to ensure the accuracy of this information, I provide it "as is" for your information only.
If you know of any errors or omissions please contact me via e-mail.
Return to Thin Lizzy Discography or MAIN Thin Lizzy page
Goto my HomePage