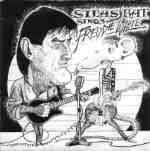 FREDDIE WHITE
IRISH ONLY release on TARA Records TS031
7 inch vinyl with picture sleeve
released in 1986!!!






Silas Rat
b/w
Silas Rat (dub mix)
*** Special Note ***
Contrary to the information of the sleeve, both songs feature PHILIP LYNOTT on backup vocals. Side one was also Arranged by Philip.
While I have made every effort to ensure the accuracy of this information, I provide it "as is" for your information only.
If you know of any errors or omissions please contact me via e-mail.
Return to Thin Lizzy Discography or MAIN Thin Lizzy page
Goto my HomePage