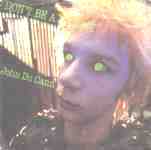 Former Thin Lizzy guitarist (1974)
Johnny Du Cann
aka John Cann
UK Vertigo Records 6059 241
7 inch vinyl with picture sleeve
released in 1979



Don't Be A Dummy

b/w

If I'm Makin'
*** Special Note ***
This record was produced by Francis Rossi of STATUS QUO (Pictures Of Matchstick Men)
In 1970 Vincent Crane formed ATOMIC ROOSTER with Carl Palmer. Their first European release was Atomic Ro-O-oster. Palmer quit the following year to form ELP (EMERSON LAKE and PALMER). In 1971 John DuCann joined ATOMIC ROOSTER and added guitar to the US release of their Atomic Ro-O-oster album.

In 1972 John DuCann and Paul Hammond left Atomic Rooster to form HARD STUFF with Johnny Gustaveston.
See Robin's comments and Germany 1974 for some info on John's short time with THIN LIZZY in 1974.
In 1975 Vincent put Atomic Rooster on hold while pursuing other projects.
1980 saw the reformation of ATOMIC ROOSTER with Vincent and John DuCann working together again. But by 1981 John was AWOL and missed playing the Reading Festival with the band. He had apparently decided to retire. In 1984 Atomic Rooster was disbanded, never to reform again. Be sure to check out Jean Cheeseman's Atomic Rooster - Whatever Happened to the Band? site
Vincent passed away on Valentine's Day 1989 after an illustrious career with the likes of Crazy World of Arthur Brown (FIRE), Carl Palmer (before ELP), Rory Gallagher and Dave Gilmour (PINK FLOYD) to name a few.
Since that time, Paul Hammond too has died. In fact, of the "Death Walks Behind You" line-up of ATOMIC ROOSTER, only John DuCann remains.
For more information on the late Vincent Crane or his band ATOMIC ROOSTER and more, visit Jeannie Crane's wonderful website Atomic Rooster - Whatever Happened to the Band?.
For more information on check out these comments from Robin Edmondson
While I have made every effort to ensure the accuracy of this information, I provide it "as is" for your information only.
If you know of any errors or omissions please contact me via e-mail.
Return to Thin Lizzy Discography or MAIN Thin Lizzy page
Goto my HomePage