Who is JAKSON SPIRES?
by James Taylor
© Copyright 2001-2010 James Taylor.
ALL RIGHTS RESERVED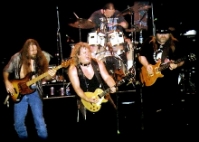 June 19th, 2001.
(Jump to updates: June 26th 2001 ... September 6th 2001 ... October 20th 2001 and September 10th 2002)

In my pursuit of information about the History Of Philp Lynott and Thin Lizzy, I came across the name JAKSON SPIRES. It was my pleasure recently to have an extended chat with Jakson, drummer and songwriter. He is currently a member of the terrific SOUTHERN ROCK ALLSTARS but he also has an exciting musical history behind him, including a long stint with BLACKFOOT as well as jamming and recording with PHILIP LYNOTT on several occasions. He has also done session work with such notables as BENNY MARDONES and Blues Legends WILLIE DIXON and ALBERT KING. Jakson is an engaging and interesting person and I have captured the highlights of our conversation to share with you.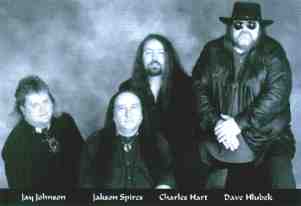 Thin Lizzy fans will remember the SOUTHERN ROCK ALLSTARS from their contribution to the recent Philip Lynott tribute album THE SPIRIT OF THE BLACK ROSE. Originally intended to be a medley of three Thin Lizzy tracks, due to schedule and deadline problems it was decided to simply record a killer version of Lizzy's SOUTHBOUND. The members of the SOUTHERN ROCK ALLSTARS are: JAKSON SPIRES (BLACKFOOT), JAY JOHNSON (ROSSINGTON BAND, RADIO TOKYO), DAVE HLUBEK (MOLLY HATCHET), and CHARLES HART (RADIO TOKYO). Joining them on the recording of SOUTHBOUND was MIKE ESTES (LYNYRD SKYNYRD).
When I caught up with Jakson, he was in the SRA's studio control room, in Alabama, listening to the playback of a track-in-progress for the new album DANGER ROAD which they are currently working on, and which is expected to be released this Fall. Their previous album, CRAZY AGAIN, is available from their website or from any of the better on-line music stores.
When I first spoke to Jakson, I introduced myself as a PHILIP LYNOTT and THIN LIZZY fan. His response: "Isn't everyone?" He went on to say that he considers Philip a musical inspiration and it's unfortunate that Thin Lizzy did so many great songs but most people only know one or two of them. "We often do DON'T BELIEVE A WORD in concert and it's a real show-stopper".
He jokingly referred to himself as "a drummer, not a musician" referring to a recent advertisement he saw for a band known as "Three Musicians and a Drummer". But for anyone who has ever heard him play they will recognize he is not only a musician but a very talented one.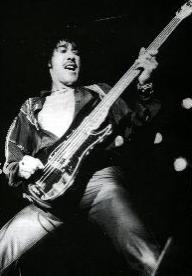 JAKSON SPIRES first met PHILIP LYNOTT when their mutual booking agent, in Detroit back in the late 1970's, invited him to a Thin Lizzy concert. In backstage conversation it came out that Brian Downey was not happy with his particular drum kit and Jakson, a drummer himself, volunteered to put in a good word on Brian's behalf with TAMA, another drum manufacturer, with whom he had a good relationship.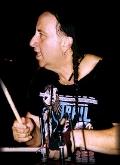 Jakson and Phil hit it off immediately and chatted in depth. Phil had a major interest in the American West and American Indians, and was glad of the opportunity to chat with Jakson who comes from Apache and Cheyenne roots. Both Phil and Jakson are extremely proud of their respective heritages and this similarity cemented an obvious bond between them. Phil told Jakson that they must "keep the traditions alive". As Jakson told me, "I am proud to be an Indian but I am just as proud to be an American. I love this country and after being on the road, it feels so good when I'm home again".
Jaksons' performing days began when his brother had trouble finding a drummer for his band. Jakson kept telling him that he could drum and sing but he wouldn't listen to Jakson until he had unsucessfully auditioned more than 60 candidates. Jakson told me: "I remember as if it was yesterday the very first song I ever drummed and sang. It was on a Thursday and it was the RASCALS' COME ON UP". When his brother heard the results he happily said "I guess we will be playing this weekend afterall".
Jakson was a founding member of BLACKFOOT and from 1975 right through until the original band broke up in 1986 he co-wrote all of their material including HIGHWAY SONG and FLY AWAY.
Around 1980 Jakson was in London with BLACKFOOT as opening act on the SCORPIONS tour. Staying behind to adjust the tuning on his drums one day after a practice session, at one of a group of well equipped rehearsal stages there, a guy came in asking if it would be OK for PHILIP LYNOTT to come in and use the bass amp for a bit. While Phil and Jakson were jamming, MICHAEL SCHENKER, who was in the area to pick up some equipment left there previously, dropped by and of course joined in. A bit later COZY POWELL came by and, finding an extra set of drums, of course had to join in. The resulting session went on for several hours and as Jakson told me, "it was way heavier than anything any of us were doing at the time. It was crushing. It made 'heavy metal' of the day sound like Donny and Marie". It has been suggested that this on-going friendship was an inspiration, in part, for Thin Lizzy' track "Genocide (The Killing Of The Buffalo", written by Phil around this time.
While in London in 1980 Jakson did some session work including "cutting around 20 new tracks with Phil. We also recorded some songs he'd already done that he wanted to do alternate versions of" Jakson told me.
During the 1981 Blackfoot MARAUDER Tour Phil and Jakson crossed paths again briefly, and renewed their friendship.
They met again in 1982 during the Blackfoot HIGHWAY SONG Tour. Again Phil and Jakson spent some time recording together and Jakson recalls that "we must have cut 15 or 20 songs" that time.
"Mostly when we recorded it would just be Phil and me and an engineer. Sometimes Phil would play guitar on the tracks himself". Some of the tracks apparently were never released due to contractual problems with the record company, "but most of the stuff I did with Phil that got released came out in the later years" he said.
"One of the things that always impressed me about Phil was that no matter where he was and no matter how busy things were, he would always find time to slip away and call his mom. They were very close."
Jakson got called away on an urgent matter at this point, so we were unable to continue. But I did thank him for spending the time with me and for allowing me to share this information on my website.
Be sure to check out the SOUTHERN ROCK ALLSTARS and their album CRAZY AGAIN, which includes the Thin Lizzy song DON'T BELIEVE A WORD, which Jakson said they did as "kind of a tribute to Philip".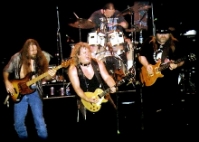 June 26th, 2001. See also update: September 6thand October 20th

I was lucky enough to catch up with Jakson again, between gigs and sessions, and am pleased to be able to include the following update.

Jakson confirmed something that I have also seen... the SRA recording of SOUTHBOUND on THE SPIRIT OF THE BLACK ROSE tribute album has stirred up a lot of interest in this band amongst Thin Lizzy fans. In fact, they plan to incorporate the song into their set soon. "The problem is that we have so many songs that it's hard to fit them all in. But SOUTHBOUND will be worked in at some point" he said.
We talked about progress on the new SOURTHERN ROCK ALLSTARS album DANGER ROAD and Jakson sounds quite excited. Much of the recording is already done, with 3 songs already mixed and some are just waiting for additional parts to be recorded. Guests on the album will include a member of the ALLMAN BROTHERS BAND and a member of the KENTUCKY HEADHUNTERS, to name just a couple. Preview the new album with a full length MP3 version of WISHFUL THINKING which is now available for download FREE from the link on their site. This song is not available anywhere else! Full length MP3 versions of BETTER OFF ALONE and TROUBLE'S COMIN' from their CRAZY AGAIN album are also available for download FREE.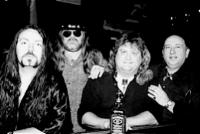 At the moment, SRA are flying out to Washington for several gigs, and have been invited to a major radio station for a live in-studio interview session while there. Jakson was particularly pleased because this particular station is not usually that receptive to interviews and wasn't interested in SRA last trip. "Probably the last person they inteviewed there was ERIC CLAPTON" he said.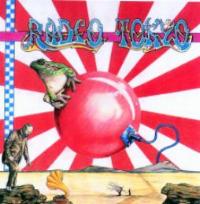 I mentioned to Jakson that as a result of the recent high profile of SRA in Thin Lizzy circles, there is also a spin-off of interest in RADIO TOKYO (since two of the SRA members were also in that band). I asked him if Radio Tokyo ever released any albums and he confirmed that they did indeed release one. Although it is currently out of print, there are probably a few copies in storage at the SRA studios, so if you're interested you MAY be able to purchase it at their website's on-line store. It probably won't be listed, so just ask about it.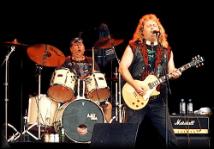 September 6th, 2001. See also update: October 20th

Once again I was lucky enough to catch up with Jakson, between gigs and sessions.
As you might expect if you've seen their hectic schedule, Jakson was rather exhausted but took time out from recording to chat with me.
SRA have been VERY busy lately, playing for fans near and far across the USA, as well as fitting in working on the new CD which they expect to release later this year.
"It's almost done" said Jakson. "We've still got a couple of friends to come in and record their parts, but a lot of it is done now". I can tell from his conversation that he is very excited about the new material. Be sure to preview the new album with a full length MP3 version of WISHFUL THINKING which is available for download FREE from the link on their site.
And if you haven't already, you can purchase their current album CRAZY AGAIN from their website store. It is one of my personal favourite albums. Of note to Lizzy fans, Southern Rock Allstars are also now selling the THIN LIZZY tribute 2 CD set THE SPIRIT OF THE BLACK ROSE at their website. This tribute to the late PHILIP LYNOTT includes SRA's terrific rendition of SOUTHBOUND.
Once again, "duty called" Jakson and we had to end our conversation at this point. I thanked Jakson for generously sharing his time as he does.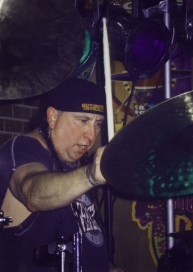 October 20th, 2001.

Photo © Copyright V Watson 2001

Most of you have probably never heard of COSHOCTON, OHIO, USA, but that is where I was finally able to see the Southern Rock Allstars perform for my first time, and what a great setting: a local bar with capacity for only a couple hundred people.

When I caught up with the band they were eating dinner but they took time out for introductions and a brief chat. We talked a bit about the touring life and some of the hassles and experiences that go with it. On my way to the gig I watched in horror as a motorcyclist right in front of me drove into a concrete median on a 6 lane highway at 60 mph and, apparently, survive.... I was shaking just from seeing it happen. They could empathize as in the course of their travels they have "seen it all". I asked them about playing in Canada some time, but they don't see it happening any time soon, expressing concern about their being able to cross the USA/Canada border without major hassles.



The night's show would open with an interesting Ohio band AMERICAN DOG, who consider themselves the "LAST OF A DYING BREED". They grew up on the likes of AC/DC, TED NUGENT, AEROSMITH, ALICE COOPER and of course THIN LIZZY. In fact, MICHAEL HANNON, lead singer and bass player for the band, made a point of coming over and talking music for a while before the show just because he saw my THIN LIZZY t-shirt and was impressed that there are still people out there who love his kind of music. They have two cd's to their credit and one was recorded with "NO OVERDUBS, NO CLICKTRACKS, NO HEADPHONES -- REAL ROCK-N-ROLL" in the spirit of their brand of music: Michael Hannon, Steve Theado and Keith Pickens --- AMERICAN DOG.

Photo © Copyright V Watson 2001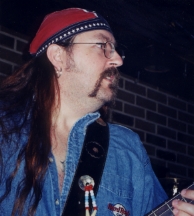 In the hours before SRA went on stage, I had a chance to chat with CHARLES (bass). He is a very interesting guy and very outgoing. We talked about our common musical interests, including his love for the music of a number of Canadian bands and artists. He also he explained how he came to join SRA in the first place: he had been asked to join the band as a guest musician for a gig one night and there was some kind of internal dispute in the band. The end result was that the bass player (Steve?) walked out. Jakson asked Charles if he would fill in on bass that night and he's been doing it ever since.
Charles also mentioned that they are currently negotiating with a record label to re-master and re-issue (perhaps with a couple bonus tracks?) the one and only RADIO TOYKO album. Between gigs this month Jimmy Smith, JAY and JAKSON spent some time in Muscle Shoals not only continuing work on the new album DANGER ROAD, but also they worked on finishing the remastered domestic and European versions of their debut album CRAZY AGAIN.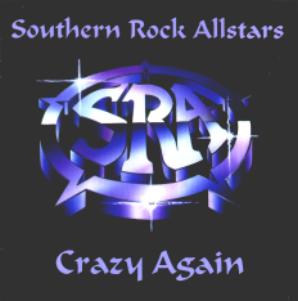 We also talked about the new SRA album and how they are hoping to have it out in time for Christmas, although I had the feeling they thought that schedule might be a bit of a challenge. ( The date February 2002 has been whispered! ) The band is very happy with the material on it ... in fact they ignored their first album CRAZY AGAIN playing mostly tracks from the new album all night. They also peformed three classic tracks from Jakson's BLACKFOOT days: "TRAIN, TRAIN", "HIGHWAY SONG" and "WISHING WELL", as well as "FLIRTIN' WITH DISASTER" (Flirtin' With Your Sister) from Dave's MOLLY HATCHET days. On that note, during a couple of recent concerts JIMMY FARRAR (former MOLLY HATCHET singer) joined SRA and October 13th both he and original MOLLY HATCHET guitarist STEVE HOLLAND joined SRA for a rousing gig at the Spirit of Suwannee Music Park in Florida.

Photo © Copyright V Watson 2001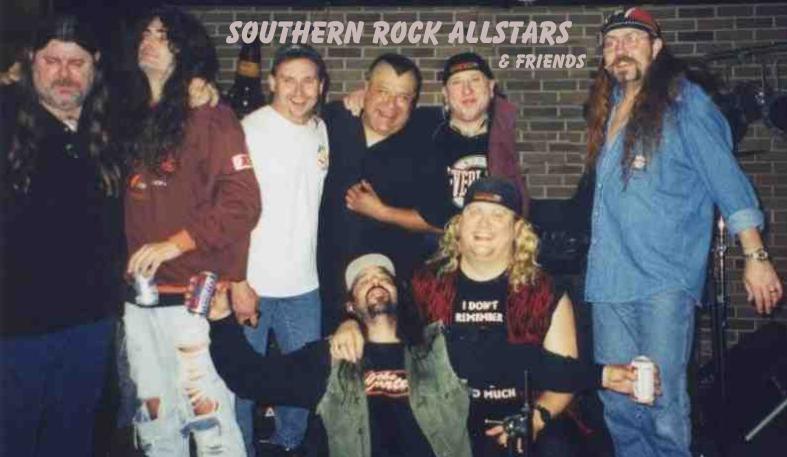 In the audience tonight, but not listed on the playbill, was JOHN "Vatos" HERNANDEZ original drummer for the group OINGO BOINGO. Midway through the SRA performance he was invited to join them on drums for a song and ended up playing extended versions of "Statesborough Blues" and "Play That Funky Music". This apparently impromptu performance was well received by the crowd.

And of course, SRA peformed a powerful rendition of the THIN LIZZY track "DON'T BELIEVE A WORD", which ended up being the only track from their first album to be played this night.

The crowd at the bar were extremely friendly and the people I talked with had no idea who SRA was, only that "some great band is playing here tonight" and they didn't want to miss it. On that note, when I was chatting with band members after the show, I mentioned to them how unfortunate it was that these people came here tonight not knowing what a great album SRA have out and left still not knowing, since they didn't play any of these GREAT tracks.

Photo © Copyright V Watson 2001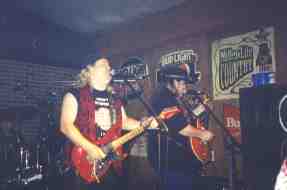 As far as what to play each night, Charles said that he just plays what gets "called" (by Jay). Jay explained the he "calls out" the tracks each night based on his reading of the audience reaction. This particular night he felt that the crowd was really getting into the new tracks and did more of them than he realized until we were discussing it. When I mentioned that they hadn't done any of their songs off the album he said "ya, we did.... wow, you're right we didn't do even one tonight". But it was obvious that the band enjoyed performing for the crowd and they did a non-stop solid 2 hours plus show.



Philip Lynott and Thin Lizzy got public recognition, not only from SRA as a source of inspiration and influence, but also from AMERICAN DOG for the same reasons. Long live Philip.
Momentum is building for the SOUTHERN ROCK ALLSTARS. Don't miss out!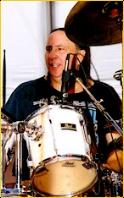 September 10th, 2002.


Check out
RED WHITE BLACK and BLUE
AMERICAN DOG'S latest CD





This site is a winner of

This page last updated June 13th 2010

© Copyright 2001-2010 James Taylor.

All SOUTHERN ROCK ALLSTARS photos courtesy of and © Copyright the Southern Rock Allstars
except as noted, which are © Copyright V Watson 2001.


ALL RIGHTS RESERVED





*** Special Note ***

While I have made every effort to ensure the accuracy of this information, I provide it "as is" for your information only.

If you know of any errors or omissions please contact me via e-mail.