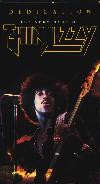 Dedication: The Very Best Of...
VHS video / approximately 55 minutes
Polygram Music Video 082 569-3


 The Rocker
 Whisky In The Jar
 Jailbreak
 Don't Believe A Word
 Bad Reputation
 Dancin' In The Moonlight
 Rosalie (live)
 Waiting For An Alibi
 Do Anything You Want To
 Sarah
 Chinatown
 Killer On The Loose
 Out In The Fields
 Dedication

NOTE:
Songlist is different than the European audio CD Dedication.

These are both different from the North American audio CD Dedication.

For more information about the title track DEDICATION be sure to visit my History of... page.

*** Special Note ***

While I have made every effort to ensure the accuracy of this information, I provide it "as is" for your information only.

If you know of any errors or omissions please contact me via e-mail.