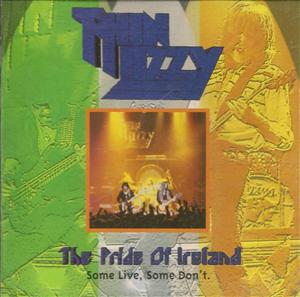 THIN LIZZY
The Pride Of Ireland
(Some Live, Some Don't)
Silver Wolf HOWL 5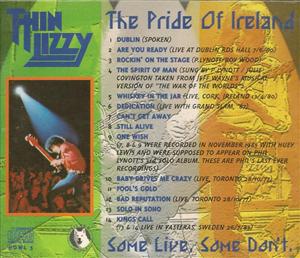 1. Dublin (spoken)
2. Are You Ready? (Dublin, Jun 7th, 1980)
3. Rockin' On The Stage (P Lynott/Roy Wood)
4. The Spirit Of Man (sung by Phil Lynott and Julie Covington)
from Jeff Wayne's Musical version of WAR OF THE WORLDS
5. Whiskey In The Jar (Cork, April 13th, 1980 w/Midge Ure)
6. Dedication (live with GRAND SLAM)
7. Can't Get Away
8. Still Alive
9. One Wish
10. Baby Drives Me Crazy (Toronto, Oct 28th 1977 / see note!)
11. Fool's Gold
12. Bad Reputation (Toronto, Oct 28th 1977)
13. Solo In Soho (see note below)
14. King's Call (see note below)
NOTES:
Track 6 is listed as "live with Grand Slam '87" but this is from the same concert as LIVE DOCUMENT (1984)

Tracks 7-9 were recorded in November 1985 with Hewy Lewis and the News and were supposed to appear on Phil Lynott's 3rd solo album. These are Phil's last (known) recordings.

Track 10 is listed as TORONTO, October 28th 1977, but Phil introduces the band: including Snowy White and Darren Wharton, who joined Thin Lizzy for the 1980 tour.

Track's 13-14 live in Vasteras, Sweden, probably on July 26th, 1983, and are almost certainly the band THE THREE MUSKETEERS and not Thin Lizzy.
*** Special Note ***
While I have made every effort to ensure the accuracy of this information, I provide it "as is" for your information only.
If you know of any errors or omissions please contact me via e-mail.
Go to Thin Lizzy Discography or my HomePage