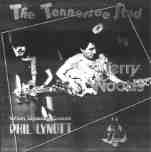 TERRY WOODS
Released in Ireland on Stud Records
7 inch vinyl
released in 1980
STUD 001
Irish release is different than the UK one



Tennessee Stud (Jimmy Driftwood)
b/w
Tennessee Stud (Jimmy Driftwood)
acoustic version
*** Special Note ***
These tracks feature:
Terry Woods - vocals/guitar
PHILIP LYNOTT - vocals/bass guitar
Robbie Brennan - drums
Pete O'Hanlon - lead guitar
Donal Gallagher - bass guitar

Produced by PHILIP LYNOTT. Arrranged by TERRY WOODS and PHILIP LYONTT
Recorded at Winhill Lane Studios. Dublin and Good Earth Studios, London.
Robbie Brennan and Philip Lynott later performed together as part of GRAND SLAM.

Previously Robbie and Philip played together in SKID ROW,
while Terry Woods and Philip had performed together in ORPHANAGE.
Terry later went on to join the POGUES.
See also the UK release.
While I have made every effort to ensure the accuracy of this information, I provide it "as is" for your information only.
If you know of any errors or omissions please contact me via e-mail.
Return to Thin Lizzy Discography or MAIN Thin Lizzy page
Goto my HomePage