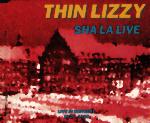 CD 1
Are You Ready
Hey You
Waiting For An Alibi
Jailbreak
Do Anything You Want To Do
Don't Believe A Word
Dear Mis Lonely Hearts
Still In Love With You
Chinatown
Cowboy Song
The Boys Are Back In Town
Suicide
Sha La La
Sugar Blues

   CD 2
Baby Drives Me Crazy
Medley
Emerald
   Bonus Tracks
It's Only Money
Little Darling
Still In Love With You
Black Boys On The Corner
Sitamoia
Emerald
Warriors
Cowboy Song
Jailbreak
Don't Believe A Word
Johnny
Fool's Gold

---
Note:
Bonus tracks are from the same sessions as the Peel Sessions.
Still In Love With You lyrics are completely different from the version found on the NIGHT LIFE album.
*** Special Note ***
While I have made every effort to ensure the accuracy of this information, I provide it "as is" for your information only.
If you know of any errors or omissions please contact me via e-mail.