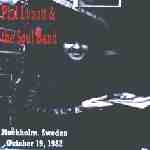 PHILIP LYNOTT solo tour
LIVE IN STOCKHOLM
October 19th, 1982





The Man's A Fool
Girls
Old Town
Solo In Soho
Together
Tattoo
Growing Up
King's Call
Yellow Pearl
Dear Miss Lonelyhearts / Some Guys Have All The Luck
Ode To A Black Man
Dancing In The Moonlight
Baby Drives Me Crazy
PHILIP'S support band
THE SOUL BAND
was made up of:
Gus Isidore (later to be in THE THIRD MAN) on guitar
Jerome Rimson on bass
Darren Wharton on keyboards
Jimmy Bain (later to be in WILD HORSES) on second keyboard
Mark Nauseef on drums

*** Special Note ***
Not for sale or trade. From a private collection.
See also: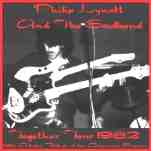 Stockholm 1982
While I have made every effort to ensure the accuracy of this information, I provide it "as is" for your information only.
If you know of any errors or omissions please contact me via e-mail.
Return to Thin Lizzy Discography or MAIN Thin Lizzy page
Goto my HomePage