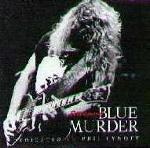 BLUE MURDER
Screaming Blue Murder
1994 - Japan only
This LIVE album is JOHN SYKES's tribute
to his unforgettable friend PHILIP LYNOTT.
Recorded in Japan, December 1993.
DEDICATED TO PHIL LYNOTT
Riot
Cry For Love
Cold Sweat
Billy
Save My Love
Jelly Roll
We All Fall Down
Please Don't Leave Me
Still Of The Night
Dancing In The Moonlight
BLUE MURDER is:

John Sykes: guitars and vocals
Marco Mendoza: bass
Tommy O'Steen: drums
Nik Green: keyboards

Special Note:
While I have made every effort to ensure the accuracy of this information, I provide it "as is" for your information only.
If you know of any errors or omissions please contact me via e-mail.
Go to Thin Lizzy Discography
Go to my HomePage