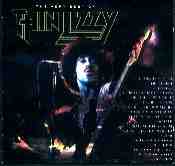 "DEDICATION: the Very Best of Thin Lizzy"

    the EUROPEAN version.... 
    ....VERY different song selection
         from the North American release
							  
 Phonogram Ltd (London) --  (c) 1991
  


   1. Whisky In The Jar
   2. The Rocker (short version)
   3. Jailbreak
   4. The Boys Are Back In Town
   5. Don't Believe A Word
   6. Bad Reputation
   7. Dancin' In The Moonlight
   8. Rosalie/Cowgirl Song (live)
   9. Still In Love With You (live)
  10. Emerald (live)
  11. Waiting For An Alibi
  12. Do Anything You Want To
  13. Sarah  
  14. Parisienne Walkways (w/Gary Moore)
  15. Chinatown
  16. Killer On The Loose
  17. Out In The Fields (w/Gary Moore)
  18. DEDICATION (see note below)

For more information about the title track DEDICATION be sure to visit my History of... page.
*** Special Note ***
While I have made every effort to ensure the accuracy of this information, I provide it "as is" for your information only.
If you know of any errors or omissions please contact me via e-mail.