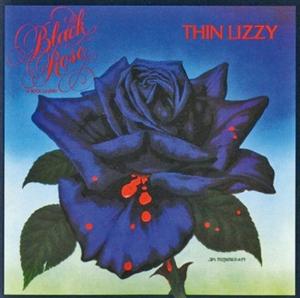 THIN LIZZY
BLACK ROSE (A Rock Legend)
1979 Vertigo
Marketed by Phonogram
STEREO 6360 169
See also 2 disk re-issue 2012 DELUXE EDITION
See also 2011 vinyl re-issue 180 gram BACK ON BLACK
1,000 copy limited vinyl re-issue
Do Anything You Want To Do (P Lynott) 3:52
Toughest Street In Town (Lynott/Gorham/Moore) 4:00
S & M (P Lynott/B Downey) 4:05
Waiting For An Alibi (P Lynott) 3:30 **
Sarah (P Lynott / G Moore) 3:32 ***
Got To Give It Up (P Lynott / S Gorham) 4:25
Get Out Of Here (P Lynott / Midge Ure) 3:35
With Love (P Lynott) 4:39
Roisin Dubh (Black Rose) A Rock Legend (P Lynott / G Moore) 7:04
1. Shenandoah
2. Will You Go Lassy Go
3. Danny Boy
4. The Mason's Apron
NOTES:
** WAITING FOR AN ALIBI (3:30) is also featured on the album WILD ONE on which it features an extra verse (4:08). The three-verse version was also included on a 1987 compilation called The Best of Thin Lizzy & Phil Lynott: Soldier of Fortune on Telstar records.
*** Some confusion exists about the song SARAH as Thin Lizzy released two songs of this name. Additionally, SOME copies of the BLACK ROSE album list the title of the track as MY SARAH. On the record face of my vinyl copy of this record SARAH is shown as written by PHIL LYNOTT yet the cover for that disk shows PHIL LYNOTT and GARY MOORE.
A song named SARAH (version 1) can be found on the album SHADES OF A BLUE ORPHANAGE. That song is reputed to have been inspired by Philip's grandmother, Sarah.
Another song, also called SARAH (or MY SARAH on some copies) is found on the BLACK ROSE album and is about his then-new daughter SARAH.
BLACK ROSE is one of three albums produced by Tony Visconti. Visit Tony's website for his comments about his experiences.
Although the details are not readily available, it is reported that the Black Rose album as we know it today is not the original release. Apparently at some point after being released, it was withdrawn and some tracks were removed and others added before it was reissued. Just The Two Of Us, released on a single, was apparently one of the cuts from the original release of the album.
In 1995 Metal Blade Records in conjunction with Warner Bros. issued a remastered version of this album in the USA only. Slight packaging variations from the original release.
Thanks, Brian and Leanlinny9, for some of the additional info.
*** Special Note ***
While I have made every effort to ensure the accuracy of this information, I provide it "as is" for your information only.
If you know of any errors or omissions please contact me via e-mail.
Return to Thin Lizzy Discography
Return to my HomePage