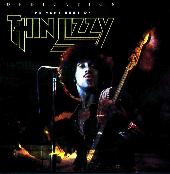 DEDICATION: the Very Best of Thin Lizzy

      the NORTH AMERICAN version....
      ....very different song selection
          from the European release
  
 Mercury/Vertigo/PolyGram -- (c) 1991
  
  

   1. Whiskey In The Jar
   2. The Rocker (long version)
   3. She Knows
   4. Still In Love With You (studio)
   5. Showdown
   6. Rosalie (studio)
   7. Wild One
   8. Fighting My Way Back
   9. Jailbreak
  10. The Boys Are Back In Town
  11. Cowboy Song (studio)
  12. Don't Believe A Word
  13. Bad Reputation
  14. Dancin' In The Moonlight
  15. Do Anything You Want To
  16. Waiting For An Alibi
  17. Chinatown
  18. DEDICATION (see note below)

For more information about the title track DEDICATION be sure to visit my History of... page.
*** Special Note ***
While I have made every effort to ensure the accuracy of this information, I provide it "as is" for your information only.
If you know of any errors or omissions please contact me via e-mail.