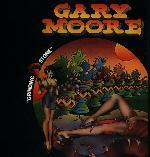 GARY MOORE
plus SKID ROW
GRINDING STONE
Originally released on the HEAD label as a CD-R

1. Grinding Stone
2. Time To Heal
3. Sail Across The Mountain
4. The Energy Dance
5. Spirit
6. Boogie My Way Back Home
7. Mad Dog Woman **
8. An Awful Lot Of Woman **
9. For Those Who Do **
10. Night Of The Warm Witch ***
11. Mr. Deluxe ***
12. After I'm Gone **** 


Special Notes:
Tracks 1 to 6:
Grinding Stone LP from 1973
** Tracks 7 to 9:
Skid Row LP 1970 (USA ONLY)
*** Tracks 10 and 11:
Skid Row UK single 1970
**** Track 12:
Skid Row TOP GEAR, BBC July 21st, 1970
There is apparently also a pirated copy of this CD-R in circulation.
---
While I have made every effort to ensure the accuracy of this information, I provide it "as is" for your information only.
If you know of any errors or omissions please contact me via e-mail.
Go to my Thin Lizzy Discography
Go to my HomePage