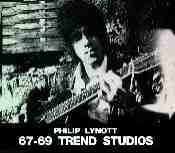 Philip Lynott
67-69 Trend Studios
Nightlife N-052
Mama & Papa
Ageing
It's Really Worthwhile
Dublin
The Friendly Ranger
Contrary to the information on the front cover, these tracks were recorded in 1970.
In early 1970, having left Skid Row, Phil Lynott brought his new group
Thin Lizzy into Trend anxious to try out their new 8 Track recording machine
which was the only one in the country. On that session were Phil, Brian Downey on drums
and Eric Bell and Gary Moore on guitars as well as some other musicians.
The recordings were engineered and produced by studio owner John D'Ardis.
*** Special Note ***


For more information on Trend Studios and these tracks click.
These recordings can also be found on Philip Lynott: A MAN AND HIS MUSIC Volume V and again on Philip Lynott: A MAN AND HIS MUSIC Volume VIII.
In 2006 HOT PRESS officially released these tracks, from the master tapes. It was a limited release of 22,000 copies and has quickly become a collectors item. Click for details
While I have made every effort to ensure the accuracy of this information, I provide it "as is" for your information only.
If you know of any errors or omissions please contact me via e-mail.