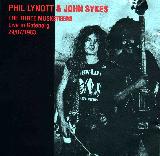 PHIL LYNOTT & JOHN SYKES
The Three Musketeers
Live In Goteborg, July 29, 1983.
Label: Taurus Records TAU 118
made in Italy


Yellow Pearl (Lynott/Ure) 3:41
Old Town (Lynott/Bain) 3:56
A Night In The Life Of A Blues Singer (Lynott) 5:28
Sarah (Lynott) 3:17
No More (Lynott) 4:34
Parisienne Walkways (Lynott) 4:48
Solo In Soho (Lynott) 6:02
King's Call (Lynott) 4:50
Cold Sweat (Sykes/Lynott) 2:49
Baby Drives Me Crazy (Lynott) 9:58
The Boys Are Back In Town (Lynott) 4:17
Dancing In The Moonlight (Lynott) 4:05

THE BAND:

Phil Lynott: bass & vocals
John Sykes: guitar
Brian Downey: drums
Mark Stanway: keyboards 
Doish Nagle: bass and guitar

NOTES:

The concert was performed July 29th, which is John Sykes' birthday

Cover says Mark "Stanley" but should be "Stanway".
---
*** Special Note ***
While I have made every effort to ensure the accuracy of this information, I provide it "as is" for your information only.
If you know of any errors or omissions please contact me via e-mail.
Return to Thin Lizzy Discography
Return to my HomePage