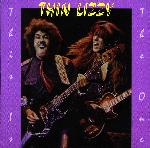 This Is The One
"Thunder And Lightning" 1982-83 Tour
HallMark HM 007 CD



Jailbreak (Lynott)
This Is The One (Lynott/Wharton)
Cold Sweat (Lynott/Sykes)
The Sun Goes Down (Lynott/Wharton)
Holy War (Lynott/Wharton)
The Boys Are Back In Town (Lynott)
Rosalie (Bob Seger)
Baby Please Don't Go (Lynott)
Still In Love With You (Lynott)
Dancing In The Moonlight (Lynott)


---
Notes:
THE BAND:
Phil Lynott: bass & vocals
John Sykes: guitar
Darren Wharton: keyboards
Scott Gorham: guitar
Brian Downey: drums

Recorded for a stereo BBC radio broadcast. Slightly different editing from some other versions of this recording....a bit of extra Philip Lynott dialog is left in. See also BBC: IN CONCERT - 299
See also Farewell Tour USA 1983 (The Concert Series) and USA 83 and Final Lightning.
*** Special Note ***
While I have made every effort to ensure the accuracy of this information, I provide it "as is" for your information only.
If you know of any errors or omissions please contact me via e-mail.