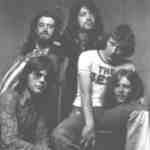 Former THIN LIZZY guitarist (1974)

ANDY GEE
(real name Andreas Gröber)
Check out jt's INTERVIEW with Andy Gee, March 5th, 2002.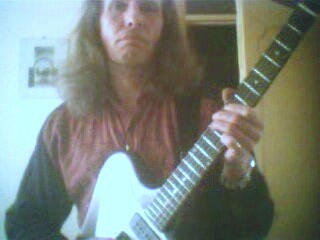 ANDY GEE was born in Berlin Germany, September 1950. He moved to a town near Frankfurt, Germany in 1955. Started playing guitar in 1958. First concert 1962 with fellow students of German slow waltzes.
Privately taught classical and flamenco for 3 years. Joined a number of bands in the Frankfurt region, The Red Rocks, The 5 Tornados, One And Another, as lead guitarist. Moved to London in 1967.
Guitarist in Irish showband "The Nights" featuring Jimmy Swarbrick 1968. Lead guitarist with London band 'Springfield Park'. Toured the UK extensively.
Prior to his short time with THIN LIZZY in 1974 he appeared on PETER BARDENS' first two solo albums, The Answer, with Peter Green, in 1970 and Write My Name in Dust 1971.
Peter went on to become a part of the original CAMEL lineup. Peter also was apparently responsible for introducing PETER GREEN to Mick FLEETWOOD and John McVIE, later to become the core of the original lineup of FLEETWOOD MAC. Sadly, Peter Bardens passed away January 22nd, 2002.
Steve Ellis joined the SOUL SURVIVORS in 1966 and in 1967 the group changed it's name to LOVE AFFAIR. Over the next couple of years the band played on package tours alongside the likes of Status Quo, the Paper Dolls, Gene Pitney, Terry Reid, Marmalade, the Tremeloes, Geno Washington, Amen Corner, Herman's Hermits and others.
In 1969, tired of the hectic touring Steve announced he was quitting Love Affair and remained with EPIC Records as a solo artist. LOVE AFFAIR was dropped a couple of years later by the label.
ANDY played guitar on 'Follow The Buffalo' LP 1970,
In 1971 Steve Ellis signed a new manager, CHAS CHANDLER, bass player with THE ANIMALS (and later the driving force behind the career of the late JIMI HENDRIX). Steve released TAKE YOUR LOVE.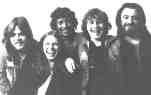 In 1972 Steve formed a the band originally called ELLIS but later THE ELLIS GROUP, with Zoot Money on keyboards, Jimmy Leverton then Nick South on bass, ANDY GEE and Dave Lutton on drums. Their first album was called RIDING ON THE CREST OF A SLUMP, and was produced by ROGER DALTREY (the WHO).
In 1973 they released their second LP, WHY NOT?, produced by Mike Vernon. Steve was subsequently pressured by Epic to stay on as a solo act, but to dump the band, which at that point disolved.
In 1974 ANDY GEE resurfaced as the guitarist in THIN LIZZY for their 1974 GERMAN TOUR after Gary Moore left, and was a part of the first two lead guitar line-up of Thin Lizzy with Phil, Brian and John Cann.
After THIN LIZZY, Andy moved to Canada in 1975, and from 1975-79 could be found producing and playing on radio commercials in the Montreal area.

He then returned to London and worked for the M.C.P.S. between 1986 until 1994 as Copyright Manager Leosong Copyright Service Ltd until 1996. He has been an independant music publisher ever since.

Andy's current projects include:

- a 14 Track CD LP finished and available by mail from his website. It features House/Ambient music with loads of nice guitar

- CD Single: "KEEP ON" ready

- new "Supa Dupa" Tyree Cooper CD - also available as Mix-CD.

To find out more about Andy's time with THIN LIZZY be sure to check out jt's INTERVIEW with Andy Gee, March 5th, 2002.

© Copyright 1995-2011 James Taylor
This page last updated February 18th, 2011.
*** Special Note ***

Special thanks to ANDY GEE and to the STEVE ELLIS website for their assistance in my research.

While I have made every effort to ensure the accuracy of this information, I provide it "as is" for your information only.

If you know of any errors or omissions please contact me via e-mail.