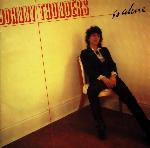 Pipeline
You Can't Put Your Arms Round A Memory
Great Big Kiss
Aske Me No Questions
Leave Me Alone
Daddy Rollin' Stone (3:19)
London Boys
(She's So) Untouchable
Subway Train
Downtown
   BONUS TRACKS
Dead Or Alive (1978 A--side)
Hurtin' (1978 B-side)
So Alone (outake)
The Wizard (outake)


---
NOTES:
Originally released in 1978, this CD re-issue in 1992 includes 4 bonus tracks by this former founding member of the New York Dolls.
The album features ex-Sex Pistols Paul Cook (drums) and Steve Jones (guitar) on many of the tracks.
PHILIP LYNOTT (bass) plays on PIPELINE, LEAVE ME ALONE, DADDY ROLLIN' STONE, and LONDON BOYS.
DADDY ROLLIN' STONE features PHILIP LYNOTT on lead vocal, verse 2, and STEVE MARRIOTT (ex-Small Faces and ex-Humble Pie) on lead vocal verse 3. This track also appeared on Philip: The Man and his Music, Volume III.
Philip Lynott passed away in 1986, and both Johnny Thunders and Steve Marriott passed away in 1991.
Philip Lynott, Paul Cook and Steve Jones worked together again, along with Gary Moore, on A MERRY JINGLE released around Christmas 1979 under the name THE GREEDIES (aka The Greedy Bastards).
Special Note:
While I have made every effort to ensure the accuracy of this information, I provide it "as is" for your information only.
If you know of any errors or omissions please contact me via e-mail.