This page UPDATED: May 31st 2006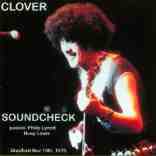 CLOVER
featuring Huey Lewis
SOUNDCHECK
Bradford
November 10th 1976
Special soundcheck guest: PHILIP LYNOTT
An obscure (incomplete) CDR recording in limited circulation.
CLOVER Soundcheck
I Want You Back
Jam #1 (Huey Lewis - vocals)
Jam #2 (Huey Lewis and Phil Lynott - vocals)
I'm A Man (Huey Lewis - vocals)
Johnny The Fox beat jam

Bonus tracks not from this concert:
THIN LIZZY live -- 1975.9.6
Kings Vengeance
Still In Love With You
NOTES:
The Thin Lizzy portion of the November 10th concert was not included
on this CDR and the CLOVER sound check is incomplete. See more details
about the concert and this recording below, from the CLOVER website.
For more information check out my interview
with ALEX CALL, lead singer of CLOVER.
From the CLOVER website ... May 20, 2006

Hi all, Alex Call has been interviewed by a Thin Lizzy/Phil Lynott website.

You will also find an excerpt from Alex's forthcoming book "867-5309":

Thin Lizzy and Scottish Roadies

Hopefully Alex's book will be available soon.

On the Lizzy website you will also find information regarding a CDR
that features a soundcheck Clover did November 10th, 1976 when
they were supporting Thin Lizzy. I got a copy of this obscure CDR in 2002
and never mentioned it here because the sound quality is something
between pretty bad and horrible - even Micky Shine was disappointed
when he listened to it (another reason not to mention it).

Well here is the correct setlist (the one on the Lizzy site is incomplete):
1. I Want You Back (2:46)
2. Drums - Soundcheck (0:55)
3. Drums & Guitar - Soundcheck (2:17)
4. Blues Boy/Hoochie Coochie Man - Blues Jam (12:00)
5. Harmonica - Soundcheck (1:10)
6. Going Down Slow - Blues Jam (5:36)
7. I'm A Man/Hoochie Coochie Man (5:43)
8. Johnny The Fox - Beat Jam (2:49)
9. Vocals - Soundcheck (1:55)

Phil Lynott and Huey are singing some vocals ... but the sound is too bad.
*** Special Note ***
While I have made every effort to ensure the accuracy of this information, I provide it "as is" for your information only.
If you know of any errors or omissions please contact me via e-mail.
Return to Thin Lizzy Discography
Return to my HomePage