THE GREEDIES
CD-R
Live: London, Camden, The Electric Ballroom

DISK ONE: July 29th, 1978

Jailbreak
Jesus Children of America
The Cowboy Song
The Boys Are Back In Town
Stop Messin' Around
Don't Believe A Word
Spanish Stroll
Are You Ready?
Black Leather
Pipeline
Get Outta Here
No-One Is Innocent
Motorbikin'
Pretty Greedy
No-One Is Innocent

The disk 1 band is:

Philip Lynott - vocals, bass
Brian Downey - drums
Gary Moore - guitar, vocals
Scott (GrowHair) Gorham - guitar
Jimmy Bain - bass
Chris Spedding - guitar, vocals
Steve Jones - guitar, vocals
Paul Cook - drums


DISK TWO: December 16th, 1978

Suicide
Waitin' For An Alibi
Jailbreak
Back On The Streets
Black Rose
Don't Believe A Word
Are You Ready?
No-One Is Innocent
Black Leather
Route 66
Looking After #1 Pretty Vacant
A Merry Jingle
Hard Drivin' Man

The disk 2 band is:

Philip Lynott - vocals, bass
Brian Downey - drums
Gary Moore - guitar, vocals
Scott Gorham - guitar
Bob Geldoff - vocals
Steve Jones - guitar, vocals
Paul Cook - drums
and possibly Johnny Fingers (Boomtown Rats)
Special Notes:
Recorded live in London, July and December 1978.
See also The Greedies, The Greedies and The Greedies
Some Background:
The Greedies started as a joke after some difficulties Lynott had with the IRS 'cause he hadn't paid his taxes in time. The idea was just playing small clubs and getting paid directly afterwards in cash.
The original idea was calling the band the Greedie Bastards, but later it was re-named the Greedies.
The first show was on the 29th July and was also a test for Gary Moore who just came in after the departure of Brian Robertson in early July. Then next day the band headed for America, leaving Brian Downey at home, but that's another story.
The first night features Lynott, Gorham, Moore and Downey, along with Paul Cook and Steve Jones from the Sex Pistols, as well as Jimmy Bain and Chris Spedding.
In the eve of Christmas 1978 the Greedies played again a couple of Gigs in the UK but also in Ireland. This time featuring (besides the Lizzy gang) Bob Geldoff and Johnny Fingers from the Boomtown Rats and again Steve Jones and Paul Cook.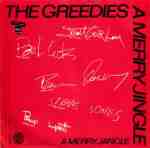 The first and only single release by the band was recorded late 1979, after Gary Moore had left. Only Lynott, Gorham, Downey, Jones and Cook survived from the original lineup.
Special thanks to the MadMan for this info.

See also JOHNNY THUNDERS So Alone


While I have made every effort to ensure the accuracy of this information, I provide it "as is" for your information only.
If you know of any errors or omissions please contact me via e-mail.
THE real CANADIAN James Taylor aka jt. To e-mail me
Go to my Thin Lizzy Discography
Go to my HomePage