1969
Played bass on the famous track Man from Manhattan which features on
the album Ghost Of A Smile with Freddie Mercury on piano and vocals,
and Brian May on Guitar. The latter two soon afterwards formed the now
legendary band Queen. Released by Warner Brothers.
1972
Bassist and musical director for the Detroit Emeralds, receiving Gold status
for Feel the Need in Me, U.K. number one in 1972.
1974
Appears on Jamming The Blues with Eddie Cleanhead Vinson
This is an excellent outing from a performer, who was claimed by both
the jazz and blues worlds.
1975
The album Tears on my Pillow by Hugh Masakela & Johnny Nash
is released by CBS with Jerome Rimson on bass
1975
Jerome played bass on the band Headstone's third album release.
1974-1984
Ten years musical director Van Morrison, played on several tours including
the famous Montreux Jazz Festivals in Switzerland. Concerts in Australia
and America are till now still memorable.
1976
Grammy for Jazz, recording with Al Jarreau. One of the most famous
concerts in Hamburg, Germany is released on Video/DVD.
1976
The Go Project Live from Paris is released on Island records. Jerome Rimson
demonstrates some incredible bass-playing. Some other musicians on
that live recording are Stomu Yamashta, Steve Winwood, Michael Schrieve
and Al Di Meola.
1976
Played bass on the album Love On My Mind by Brian Parish
1977
Release of the Visitors album on Island Records of the band
Automatic Man. Several songs including "Give it To Me" and
"Live Wire" were nothing like ever heard before on top 40 radio.
1977
Jerome appears as the bassist on the Che Che Kule album by Eddie Quansah
1976 - 1977
Producer for The Real Thing, receiving Gold status for You to Me Are Everything.
Also played bass and keyboards on several tracks.
1979
A live concert in Hamburg with Roger Chapman with Jerome on bass and
vocals is released. (also released on video & dvd)
1979
Played bass on the Soundtrack for Stg. Pepper's The Movie staring the Bee
Gees The record was produced by George Martin and the tracks Jerome
contributed to were Maxwell's Silver Hammer and Sgt. Pepper's Lonely
Hearts Club Band (Finale)
1980
The album Mail Order Magic is released by Roger Chapman with Jerome Rimson on bass
1980
Jerome played bass on Phillip Lynott's album "Solo in Soho", becoming the
only bass player to play bass on a Phil Lynott album apart from Phil himself.
1980
Blonde on Blonde released a single. It included a rendition of Led Zeppelin's
"Whole lotta love" The b-side "Woman is free" was from the soundtrack of the
movie called "Golden Lady"
1981
Played bass on the single This must love of the artist Chris Amoo.
1982
Jerome played bass on the Phil Lynott's second solo album "The Phil Lynott Album",
becoming the only bass player to play bass on a Phil Lynott album apart from Phil himself.
1983
Phil Lynott and Jerome Rimson produced the first single for a Dublin band
called BLUE RUSSIA.
The release was on Vixen Records and received strong airplay and chart success in Ireland.
1986
Played bass and provided vocals to the Waking Up album by Topper Headon. (ex The Clash)
1987
Release of Under The Influence by Mary Coughlan, Jerome plays bass.
1993
Spirit Nation lineup, in Ireland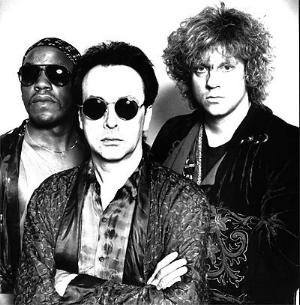 Jerome Rimson (left)
Brian Downey (Thin Lizzy, center)
Douglas Brockie (right)

1995
Island Records released a Steve Winwood album called Finer Things with Jerome
on bass on the track Crossing the Line.
1998
Several songs that Jerome recorded with Van Morrison in 1974 are released
on the double album Philosophers Stone and became one of his biggest
surprise albums with unknown materials.
1998
Jerome contributes bass on the Tribute to Duke Ellington album.
1998
Re- Release of Ghost of a Smile featuring Jerome Rimson, Freddie Mercury & Brian May
1998
Release of Anthology 1979 - 1998 by Roger Chapman. Jerome's credits are bass and co-writer.
2001
Moth to a Flame by Roger Chapman is released with Jerome on Bass.
2002
EMI records releases the Freddie Mercury Solo Collection Covering
the period of 1973 - 2000. Jerome features on one track.
2003
Jerome records several songs in Dublin Ireland with Donovan for a new studio album.
2004
Recorded several songs in London with Gus Isidore and the drummer of
the Smashing Pumpkins. Negotiations for release are taking place.
2002 - present
Jerome is back with Van Morrison since 2002 and responsible for rehearsing
the band and discovering potential new additions.
At the same time songs were written and recorded which resulted in the release
of one of the best Van Morrison albums to date in 2005, Magic Time. Next to the
bass parts Jerome also contributes with vocals & harmonies on two tracks.
Recently Jerome was back on stage again in Dublin for a live concert with Van Morrison.
The set included some tracks of the new album together with all the golden oldies.
This show was very successful!
2004 - present
Jerome started pre-production on his own solo album while MCM Global Team is
still in the process of negotiations with several labels and financial institutions as
there is a possibility to release it ourselves world-wide.
2005
It's not the first time that a fairly old recording is re-released and shows that the work
he's involved in is always unique. This time again it's Go Live from Paris with
Stomu Yamashta and Steve Winwood.
2005
The first steps and drafts have been made towards a book that Jerome wants
to publish. 35 years of working with the greatest is enough material for more than
just an average book. Negotiations are ongoing to incorporate the CD Album in the book itself.
2005
Jerome played the Cork Opera House with Gus Isidore and Brian Downey (Thin Lizzy) on November 19th.