Former Thin Lizzy guitarist (1979-80)
DAVE FLETT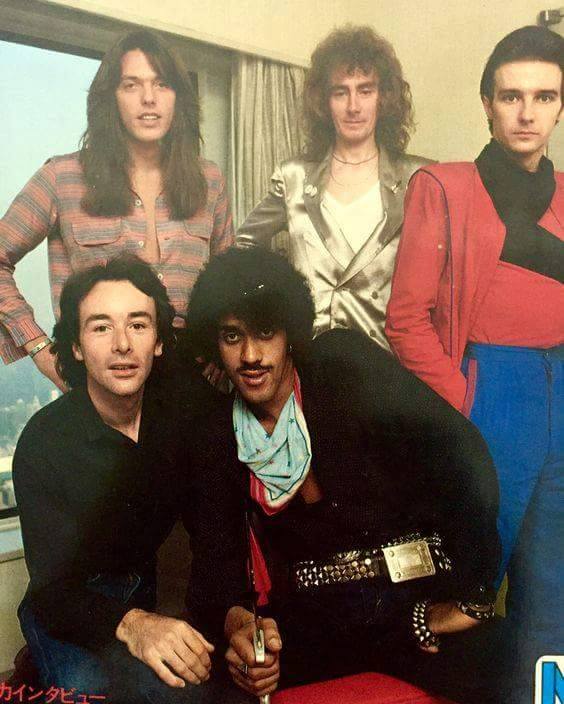 Thin Lizzy with DAVE FLETT (center back) and Midge Ure (right back)
DAVE FLETT was born in Aberdeen, Scotland.

In 1976 Dave joined MANFRED MANN'S EARTH BAND, replacing Mick Rogers. At the same time Chris Hamlet Thompson joined as new vocalist, guitarist and front man. The first album produced by line-up was The Roaring Silence which included the big hit single Blinded By The Light (written by BRUCE SPRINGSTEEN).
This cover by British rock band Manfred Mann's Earth Band reached number one on the Billboard Hot 100 in the United States in February 1977 and was also a top ten hit in the United Kingdom, New Zealand, and Canada.
What makes things interesting for Thin Lizzy fans is Dave Flett, a Scottish rock guitarist, best known for performing with Manfred Mann's Earth Band and later, Thin Lizzy. After leaving Manfred Mann's Earth Band in 1978, he briefly toured as a temporary member of Thin Lizzy after Gary Moore left the group following a concert on 4 July 1979. After Midge Ure initially replaced Moore, Flett was recruited in early September 1979 as lead guitarist alongside Scott Gorham for a tour of Japan, while Ure switched to keyboards. The first show with Thin Lizzy in Osaka on 24 September, Flett performed at five shows before the band returned home. During this tour, he and the band performed a number of songs that later surfaced on the Chinatown album, such as "Didn't I" and "Sweetheart". In December he played a few Thin Lizzy shows that were arranged to compensate for missing the Reading Festival earlier in the year, and he left the group shortly before Christmas.
Flett had wanted to remain with Thin Lizzy, but instead Snowy White was chosen as his permanent replacement. Flett described his short tenure with Thin Lizzy as "Great times with extremely talented, generous guys." On 11 August 1981, Flett joined Thin Lizzy onstage at a concert in his hometown of Aberdeen, as part of the Renegade tour. He said, "I did guest on a few numbers with them... it showed there were no hard feelings."
The following year they released the very successful album Watch which included the hit single Quinn The Eskimo, which was written by Bob Dylan.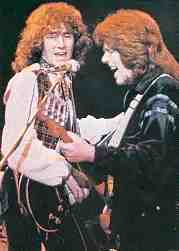 DAVE FLETT and Pat King
Manfred Mann's Earth Band release of "Quinn The Eskimo" is actually a re-make of the MANFRED MANN hit "The Mighty Quinn" from 1968. That release pre-dated the versions officially released by either DYLAN or THE BAND. It was reported that the group originally picked the song up after hearing it from a bootleg recording that was made in the now infamous Basement Tapes of Dylan and the Band jamming.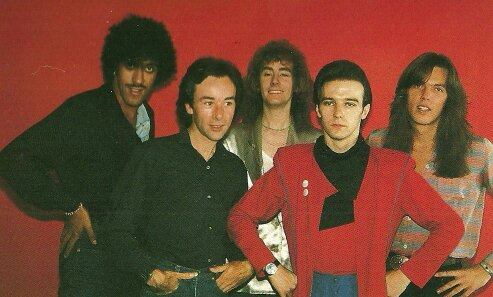 Thin Lizzy with DAVE FLETT and Midge Ure
Dave joined THIN LIZZY for their tour of Australia and Japan in late 1979 and early 1980 as Scott's other guitarist, a position that was already temporarily being filled by MIDGE URE. This addition allowed Midge to play keyboards on some songs, and Thin Lizzy to have triple lead guitar on others. Dave left the band at the end of the tour.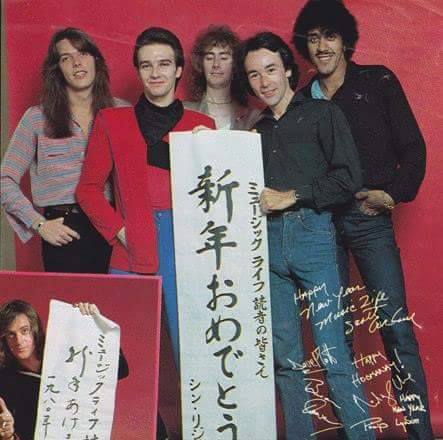 Thin Lizzy with DAVE FLETT and Midge Ure
*** Special Note ***
Thanks to the Lookalike's Sean O'Connor for his imput into the content of this page.
While I have made every effort to ensure the accuracy of this information, I provide it "as is" for your information only.
If you know of any errors or omissions please contact me via e-mail.
Return to Thin Lizzy Discography or MAIN Thin Lizzy page
Goto my HomePage