Click on pictures for item details
1977
1975-1978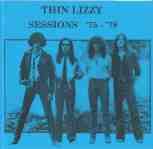 Please note:

During his short life Philip Lynott, working with many other great musicians, left behind an
incredible legacy of powerful, unique, and touching music. Unfortunately much of this music is
not very well known. I have created these pages with the hope of correcting that oversight.

Because there is some overlap between sections a few items appear in more than one.
Most vinyl listings are items that did NOT also get released in CD format. As with previous versions
of this page you can click on cover art for track listings and important notes about that particular release.

Because these pages are historical documents which attempt to list
every recording EVER in circulation and related to Philip Lynott,
Thin Lizzy or other members of his bands, most of these are currently
out-of-print and are no longer available.

Be sure to also check out my TEXT discography pages, as some items for which I do not have cover art
are not listed on the WALL pages, but do appear elsewhere.

james
Return to MAIN

Thin Lizzy

pages.

This page brought to you by:
THE real CANADIAN James Taylor aka jt.
Click to e-mail me
Your comments are important.
Thin Lizzy

Counting Crows

jt's E-MALL

Search

Other JT

Lonely?

MP3

A warm THANK YOU to these people for their support.
About THIS SITE: the fine print.
© Copyright 1995-2009 James Taylor