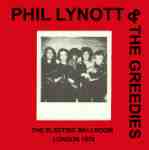 THE GREEDIES
CD-R
Live: London, Camden, The Electric Ballroom

DISK ONE: July 29th, 1978

Jailbreak
Jesus Children of America
The Cowboy Song
The Boys Are Back In Town
Stop Messin' Around
Don't Believe A Word
Spanish Stroll
Are You Ready?
Black Leather
Pipeline
Get Outta Here
No-One Is Innocent
Motorbikin'
Pretty Greedy
No-One Is Innocent

The disk 1 band is:

Philip Lynott - vocals, bass
Brian Downey - drums
Gary Moore - guitar, vocals
Scott (GrowHair) Gorham - guitar
Jimmy Bain - bass
Chris Spedding - guitar, vocals
Steve Jones - guitar, vocals
Paul Cook - drums


DISK TWO: December 16th, 1978

Suicide
Waitin' For An Alibi
Jailbreak
Back On The Streets
Black Rose
Don't Believe A Word
Are You Ready?
No-One Is Innocent
Black Leather
Route 66
Looking After #1 Pretty Vacant
A Merry Jingle
Hard Drivin' Man

The disk 2 band is:

Philip Lynott - vocals, bass
Brian Downey - drums
Gary Moore - guitar, vocals
Scott Gorham - guitar
Bob Geldoff - vocals
Steve Jones - guitar, vocals
Paul Cook - drums
and possibly Johnny Fingers (Boomtown Rats)
Special Notes:
Recorded live in London, July 29th 1978 and December 16th 1978.
See also: The Greedies, The Greedies and The Greedies
See also JOHNNY THUNDERS So Alone


While I have made every effort to ensure the accuracy of this information, I provide it "as is" for your information only.
If you know of any errors or omissions please contact me via e-mail.
THE real CANADIAN James Taylor aka jt.
Go to my Thin Lizzy Discography
Go to my HomePage