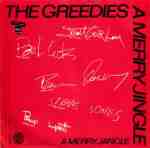 THE GREEDIES
7 inch vinyl with picture sleeve

Dutch Release

1979




A Merry Jingle

b/w

A Merry Jangle



The band is:

Philip Lynott - vocals, bass
Brian Downey - drums
Scott Gorham - guitar
Steve Jones - guitar, vocals
Paul Cook - drums

Special Notes:
This is the first and only single release by the band was recorded late 1979, after Gary Moore had left. Only Jones and Cook survived from the original lineup.

See also JOHNNY THUNDERS So Alone


While I have made every effort to ensure the accuracy of this information, I provide it "as is" for your information only.
If you know of any errors or omissions please contact me via e-mail.
Go to my Thin Lizzy Discography

Go to my HomePage