Jerome Rimson bassist (left), BRIAN DOWNEY drums (center), Douglas Brockie guitar (right).

Douglas assembled Spirit Nation after his stint touring with An Evening With THIN LIZZY Music in Europe 1991. Douglas has maintained a working relationship with Thin Lizzy drummer Brian Downey which continues to this day.
Spirit Nation exists to further expand the opportunities for artist and creative freedom of its members. Spirit Nation has toured in Ireland and North American.
Their first release was "First Mystery" on the ARC RECORDS label.
"Atlantis", a follow up by Guitarist Douglas Brockie and Thin Lizzy Drummer Brian Downey was also released on Arc Records. <!- a href="http://www.arcturusrecords.com/Pages/sncurr.html" ->.
Thanks to ARC RECORDS for use of the photos and biography information.
In 1992 a 6 track EP cassette was released featuring a revised line-up of the band.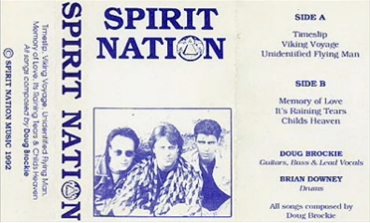 This short lived band / project featured:
Brian Downey
Doug Brockie
Neil Whetton - ex The Bogey Boys.
Thanks to Clive James Bolger for the additional information.
*** Special Note ***
While I have made every effort to ensure the accuracy of this information, I provide it "as is" for your information only.
If you know of any errors or omissions please contact me via e-mail.
Return to Thin Lizzy Discography or MAIN Thin Lizzy page
Goto my HomePage