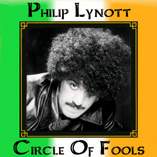 CIRCLE OF FOOLS
PHILIP LYNOTT
and THIN LIZZY
Set of ultra rare Philip Lynott related demos
THIN LIZZY demos

Fanatical Fascists [4:08]

Are You Ready ? [2:53]

Black Rose [4:37]

With Love [5:34]

Waiting For An Alibi [3:47]

Hate (dub mix) [3:19]

In The Delta (6:18)

Leaving Town [5:41]

Try A Little Harder [4:04]

Jamaican Rum [2:55]

Tattoo (giving it up) [3:05]

Fats [3:59]

Mexican Blood [4:25]

Baby Please Don`t Go [5:34]

Holy War [5:12]

The Sun Goes Down [6:07]

Heart attack [3:44]

Cold Sweat [3:07]

Don`t Let It Slip Away 1 [7:39]
Don`t Let Him Slip Away 2 [8:17]
Thunder and Lightning [4:56]

PHILIP LYNOTT solo demos
Hard Times [4:45]
Freedom Comes [3:54]
Samantha [3:59]
One Wish [4:00]
Breakdown [4:15]
Can`t Get Away [4:38]
Still Alive [3:32]
What`s The Matter Baby [4:19]
Time [5:24] (aka: Time And Again)
He fell Like A Soldier / He Was A Friend of Mine [4:22]
Lady Loves To Dance [4:11]
Breakdown [3:25]
Catholic Charm [4:04]
I Still Think Of You [4:37]
No More [4:15]
People Get Ready (for the Revolution) [3:58]
Why Don`t You Call Me [4:07]
No More [4:14]


Lady Loves To dance [5:25]
What`s The Matter Baby [4:08]


All Tracks are Demo Versions
---
*** Special Note ***
After much investigation it would appear that this not a commercial bootleg. Although these recordings actually exist, a large number of them have never made it into "the wild" to-date, suggesting that this particular CD does not exist "in the wild".
See also UNFINISHED SYMPATHY
UPDATE: March 24th 2010:
In recent months recordings of a number of these tracks have been leaked into the "wild" on such sites as YouTube, often in excellent quality.
While I have made every effort to ensure the accuracy of this information, I provide it "as is" for your information only.
If you know of any errors or omissions please contact me via e-mail.