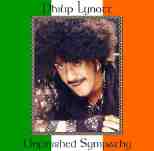 UNFINISHED SYMPATHY
PHILIP LYNOTT
Pippen 01/02
Made in Eire
disk 1 -- 68:15
hard times
mountains of morn
trouble boys
bad is bad
partner in crime
partner in crime
partner in crime
partner in crime
circle of fools
tears of a madman
threw it all away
the woman's in love
ode to a blackman
spanish guitar
dear miss lonely hearts
breakdown
breakdown
disk 2 -- 62:54
what's the matter baby
what's the matter baby
time
time
he fell like a soldier
he fell like a soldier
mystery
leaving town
cold black night
kill
dirty old town
catholic charm
fat's - alt version
the story of my life
together w/ Junior
mexican blood
*** Special Note ***
Cover appears to indicate that this is a special issue of only 500 sets. After much investigation it would appear that this not a commercial bootleg. Although most, if not all, of these recordings actually exist, a large number of them have never made it into "the wild" suggesting that this particular CD does not exist "in the wild".
See also CIRCLE OF FOOLS
UPDATE: March 24th 2010:
In recent months recordings of a number of these tracks have been leaked into the "wild" on such sites as YouTube, often in excellent quality.
While I have made every effort to ensure the accuracy of this information, I provide it "as is" for your information only.
If you know of any errors or omissions please contact me via e-mail.