updated: May 6th 2011
Birds Menu


Visitors to jt's Yard

WAXWING, CEDAR


SCROLL DOWN FOR MORE INFORMATION

Male and Female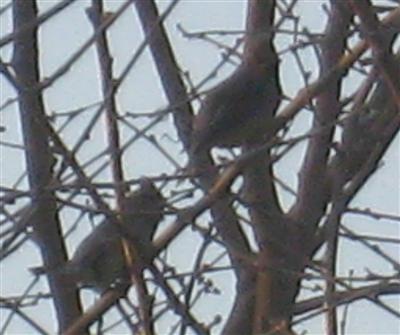 Photo © Copyright 2011 James Taylor
An awful shot, but I've had difficulty spotting them in decent
lighting conditions. You may be able to detect that they have an appearance
and colouring that is somewhat similar to the Northern FEMALE Cardinal.
Have seen them in clusters of 2, 4 and 6, but so far this is the best photo I could get.

Returns to Birds Menu
Return to MAIN MENU pages.
This page brought to you by:
THE real CANADIAN James Taylor aka jt.
Click to e-mail me
Your comments are important.
Thin Lizzy

Counting Crows

jt's E-MALL

Search

Other JT

MP3

About THIS SITE: the fine print.
Site content and all Photographs
© Copyright 1995-2009 James Taylor unless noted otherwise.