Home of THE real CANADIAN James Taylor
This page last updated: March 8th 2016
Why I recommend that you should NEVER deal with
Starwarfans - Amazon Marketplace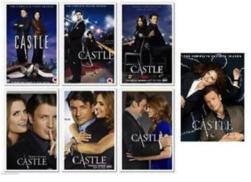 Posted: March 8th 2016

On January 27th I ordered the TV Series "CASTLE - Seasons 1 through 7" from Starwarsfans in the Amazon.ca Marketplace.

The product / seller description said: "Factory sealed and new. We ship out in two days without tracking number. Ships from NJ, United States. Your estimated delivery date is: Monday, February 8 - Monday, February 15."

So this is where the lying started. This did NOT ship from New Jersey, United States. Nor from anywhere near there for that matter. As I was to learn later, this was shipped from China.

With the shipment overdue, on February 17th I contacted the seller to ask about the shipment. Since it was advertised as being shipped "without tracking number" I was obviously surprised when their response to my query was in fact a tracking number. Unfortunately the tracking number was 'invalid'. Apparently there was a typo, which a further email to them got them to correct.

Once I was able to track the package I could see that it was coming from CHINA and not "New Jersey, United States" as advertised. By February 23rd the package had still not arrived and I received this request ... "We ask you for a favor to kindly wait for one more week and if still nothing, we will simply refund you."

Bottom line, the parcel never did arrive and Amazon did give me a refund. But they had my funds for about a month with no benefit to me.

When the seller saw my negative review of the transaction I got another email from them which said "Is it possible to remove this negative? I can further refund you $10 for this."

After giving the matter some thought I wondered if this had been a scam from the beginning or just an unfortunate situation. Deciding to give the seller the benefit of the doubt I accepted the offer and removed my negative review.

But before I actually got it removed I got this follow-up from the seller: "Dear Customer, I am sorry to bother you again, but I just found that you have not changed your feedback as you said in your last message. It is still 1 with a lot of negative comments. Let me know if you do not know how to change it."

I did go and remove the negative review at that point. That was February 28th. The next day I got a message saying only "Thanks!".

It is now March 8th and despite sending two reminder emails the seller has NOT credit the promised $10, nor for that matter even answered my emails.

Should YOU trust them with an order?
It seems to me that, in an economy where Customer Service should be
more important than ever, it has fallen by the wayside.

More and more I'm finding that companies seem to have little regard
for the Customer once the sale has been made.

To quote from the movie Network:
"I'm as mad as hell and I'm not going to take this anymore",
which is the reason for this website.

This page brought to you by:
THE real CANADIAN James Taylor
© Copyright 1995-2016 James Taylor
All photos and artwork © Copyright by their respective owners