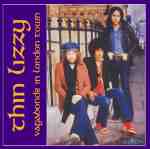 VAGABONDS IN LONDON TOWN
1972-74

CDR -- NOXH TL041





Golders Green Hippodrome -- London: July 26th, 1973
intro/The Rocker
Things Ain't Working Out Down At The Farm
Slow Blues
Gonna Creep Up On Your
Suicide

BBC Session -- November 14th, 1972 Black Boys On The Corner
Whiskey In The Jar

BBC Session -- July 31st, 1973
Gonna Creep Up On Your
Little Girl In Bloom
Vagabonds Of The Western World

BBC Session -- April 4th, 1974 (with Gary Moore)
It's Only Money
Still In Love With You
Black Boys On The Corner
Little Darling


Special Notes:
SUICIDE and STILL IN LOVE WITH YOU feature different lyrics from the official releases.

Also circulated with this cover: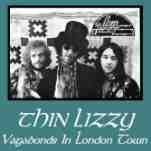 Thin Lizzy is said to have recorded 43 individual recordings, featuring 41 different songs, with two tracks recorded twice, for the Stuart Henry radio programme.
Some of these additional tracks can be found on Peel Sessions, More Peel Sessions and on disk two of Sha La Live.
While I have made every effort to ensure the accuracy of this information, I provide it "as is" for your information only.
If you know of any errors or omissions please contact me via e-mail.
Return to Thin Lizzy Discography or MAIN Thin Lizzy page
Goto my HomePage