THE RESISTORS

jt's TIM McSTAY interview.

February 20th 2006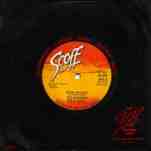 7 inch single
1983 Irish release on Scoff Records

DT027 (no picture sleeve)
A-Side --- That's It
A-side produced by Jerome Rimson
B-Side --- Steal My Love
B-side produced by Philip Lynott
Probably not many of you will recognize the name Tim McStay, or the band THE RESISTORS. Recently I was lucky enough to be able to compare notes with Tim and obtain more details on this record, partially produced by Philip Lynott. Tim has given me permission to share this with you. Enjoy....
jt: For those who don't recognize your name, please tell us a bit about yourself.
Tim: I am Tim McStay - songwriter and formerly writer and singer with THE RESISTORS - a seminal Dublin band of the early 1980's.
jt: So, what is your connection with Philip Lynott?
Tim: Phil produced a single for us (me and my colleague Paul O'Reilly) "STEAL MY LOVE" in 1983.
jt: How did you come to meet Phil?
Tim: I didn't know Phil well, but he heard a demo we did for our Record Company - Scoff Records - and liked what he heard. Said he would like to produce it. We spent three days in the studio with him. A real gentleman.
jt: You told me there is an interesting story behind the mixing of the track. Please fill us in ...
Tim: We did not get to do the mix with him, as time ran out. So he committed to mixing it in London -- he did that at ABBEY ROAD which was a real source of pride for me.
Just FYI - the A side was produced by Jerome Rimson a great bass player- played with Philip and with Van Morriison and other notables. That was also covered by Rob Strong, father of Andrew Strong, who featured as the singer in the Commitments, Alan Parker's great movie about a Dublin soul band.
jt: Was this your first record?
Tim: The Resistors released another single before that - EP for Jeanie - on our own label Break Records.
We also had another of my songs - "Service with a smile" - on a Dublin compilation album in the late 70's - the album was significant as it was U2's first release also. Who could have predicted what they were going to achieve.
jt: What are you doing today?
Tim: When the Resistors finally wound up I drifted out of the pro scene. Kept writing and eventually signed a bunch of songs to Black Rose productions in New York a few years ago. I still enjoy writing and playing and do the odd gig every now and then -- mainly me and my D15 Martin and piano
World domination is always "just around the corner" as any songwriter will tell you
Tim McStay
mcstayt@eircom.net
Special thanks to Tim for sharing his time and thoughts with me and for allowing me to share them with you.
james
© Copyright 2006 James Taylor
This page brought to you by:


THE real CANADIAN James Taylor, aka jt.
To e-mail me

Thin Lizzy

Counting Crows

jt's EMALL

Search

Other JT

Lonely?

MP3

*** Special Note ***

While I have made every effort to ensure the accuracy of this information, I provide it "as is" for your information only.

If you know of any errors or omissions please contact me via e-mail.

Return to Thin Lizzy Discography

Return to my HomePage