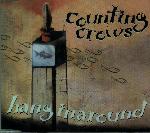 Counting Crows
hanginaround
CD-EP Geffen Records UK 497 184-2
VERSION 1
see also hanginaround rock remix and Version 2 for different tracks.
Hanginaround (from the forthcoming album This Desert Life
(words by Adam F Duritz, music by Adam F Duritz, Ben Mize, David Bryson)

Baby, I'm A Big Star Now (previously unrealeased)
(words and music by Adam F Duritz)

Omaha (LIVE)
(Live: August 17th, 1999, Fox Theatre, Boulder Colorado)
---
*** Special Note ***
While I have made every effort to ensure the accuracy of this information, it is provided "as is" for your information only.
If you know of any errors or omissions please contact me via e-mail.
Goto my Counting Crows Main CC page
Goto my HomePage
© Copyright 1995-2004 James Taylor
Hanginaround cover art courtesy of David Geffen Records