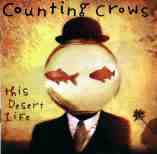 Counting Crows
THIS DESERT LIFE
Geffen Records DGC069490415-2
Released: November 2nd, 1999
hAnginarounD
mrs. potter's LulLaby
amy Hit The atmosPhere
four days
alL my frienDs
High LiFe
colorblinD
i wish i wAs a Girl
sPeeDWAy
St. Robinson in His caDALlaC dreAM
***BONUS TRACK***

DON'T MISS THE BONUS/HIDDEN TRACK!
After 2 or 3 minutes of silence at the end of track 10 there is
some studio chatter and one complete extra/unlisted song!
See also: HANGINAROUND #1 and HANGINAROUND #2
Previous UPDATES:
On July 24th Adam told fans at Woodstock '99 that
HANGIN' AROUND (which they performed that day)
would probably be the first single from the new album
THIS DESERT LIFE which is due out in October.
Here is ADAM'S earlier posting on AOL regarding the NEW ALBUM:
I HAVE RETURNED. got my new computer today to replace the one that took a
mysterious bath several months ago. it's all fired up and rarin' to go.
sorry to have been gone so long. by way of an apology, i will now list the
titles of all the new songs on the new record as well as the tentative album title:
This Desert Life
Four Days
Saint Robinson In His Cadillac Dream
Amy Hit the Atmosphere
Speedway
High Life
I Wish I Was A Girl
All My Friends
Mrs Potter's Lullaby
Hangin' Around
Colorblind
Baby, I'm A Big Star Now
Kid Things

nice to speak with you all again. thanks, zack.
ad
~~~~~~~~~~~~~~~~~~~~~~~~~~~~~~~~~~~~~~~~~~~~~~~~~~~~~~~~
---
*** Special Note ***
While I have made every effort to ensure the accuracy of this information, it is provided "as is" for your information only.
If you know of any errors or omissions please contact me via e-mail.
Goto my Counting Crows Discography
Goto my HomePage
© Copyright 1995-1999 James Taylor
Cover art courtesy of David Geffen Records.