version 1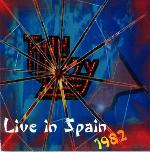 version 2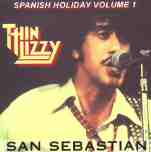 THIN LIZZY
San Sebastian
March 4th 1982

Version 1

contains all tracks except Don't Believe A Word, on a single disk.

Version 2 contains the following tracks, on TWO disks.

angel of death
renegade
waiting for an alibi
jailbreak
the pressure will blow
suicide
got to give it up
don't believe a word
killer on the loose
cowboy song
the boys are back in town
hollywood
bad reputation / drum solo
are you ready?
*** Special Note ***
While I have made every effort to ensure the accuracy of this information, I provide it "as is" for your information only.
If you know of any errors or omissions please contact me via e-mail.
Return to Thin Lizzy Discography
Return to my HomePage