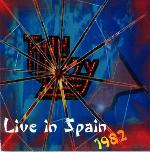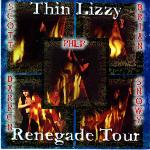 LIVE IN SPAIN 1982
CD-R
Live in San Sebastian, Spain, 03/04/1982
Angel Of Death
Renegade
Waiting For An Alibi
Jailbreak
The Pressure Will Blow
Suicide
Got To Give It Up
Killer On The Loose
Cowboy Song
The Boys Are Back In Town
Hollywood
Bad Reputation
Are You Ready?
Special Notes: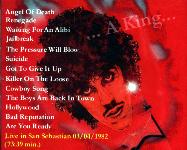 The band is:
Philip Lynott - bass/vocals
Snowy White - guitar
Scott Gorham - guitar
Darren Wharton - keyboards
Brian Downey - drums



Recorded live in San Sebastian, Spain, 03/04/1982. Not for sale. From a private collection.
---
While I have made every effort to ensure the accuracy of this information, I provide it "as is" for your information only.
If you know of any errors or omissions please contact me via e-mail.
Go to my Thin Lizzy Discography

Go to my HomePage