Return to ITEM LIST

The TRAVELING WILBURYS

Volume 3

Recorded after the loss of ROY ORBISON

by remaining members:
BOB DYLAN
TOM PETTY
JEFF LYNN
and the late GEORGE HARRISON

includes an uncredited GARY MOORE
guitar solo on "She's My Baby"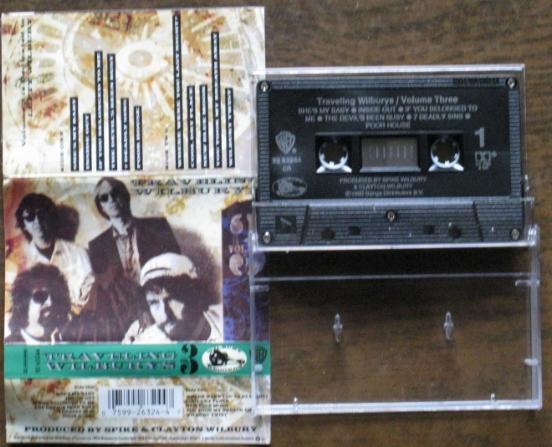 SIDE 1

She's My Baby (with Gary Moore on guitar)
Inside Out
If You Belonged To Me
The Devil's Been Busy
Deadly Sins
Poor House

SIDE 2

Where Were You Last Night
Cool Dry Place
New Blue Moon
You Took My Breath Away
Wilbury Twist

Warner Electra Altlantic WEA Records of Canada
catalog number: 92 63244

Cassette
Fold Out 14 panel J-card
Like New

This item has been discontinued by the manufacturer.
Item Number: PSMWILB3329

from Canada

PRICE: $5 plus SHIPPING (see below)
plus applicable taxes (if any)

E-mail privatesalemusic@gmail.com to check availability and shipping costs.

Be sure to include city/country of destination for postal rate calculation.
Return to

MAIN

index ... Go to

ORDERING

instructions