7 inch 33 1/3 rpm EP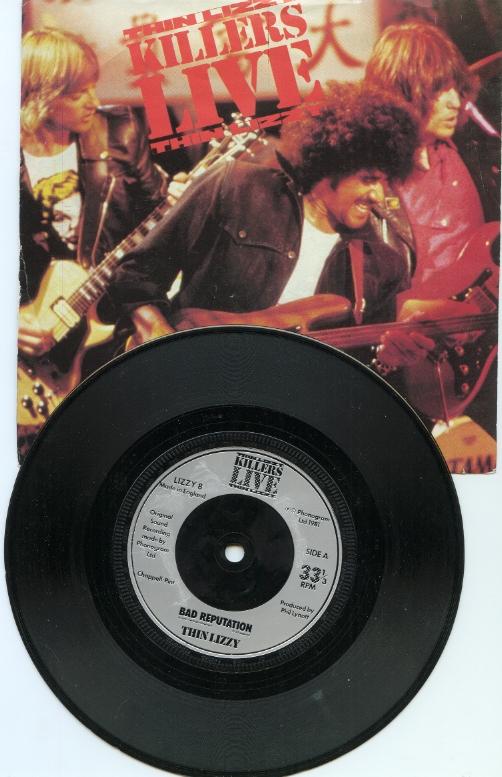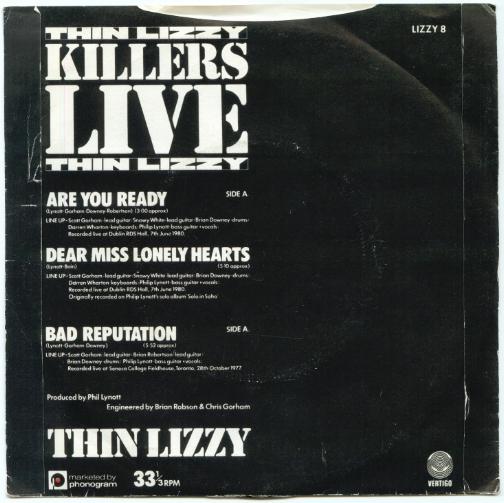 Side A
Are You Ready (3:00)
Dublin 7th June 1980
Dear Miss Lonely Hearts (5:10)
Dublin 7th June 1980
Side A
Bad Reputation (5:52)
Toronto 28th October 1977
Both sides of disk are labelled 'Side A'

Made In England

VERTIGO

Catalogue #: LIZZY 8

(p) 1981 Phonogram Ltd

7 inch 33 1/3 rpm EP

Good condition. Sleeve showing it's age. (see photo).
Item Number: PSMTL007

from UK

PRICE: $20 plus SHIPPING (see below)
plus applicable taxes (if any)

E-mail privatesalemusic@gmail.com to check availability and shipping costs.

Be sure to include city/country of destination for postal rate calculation.
Return to
MAIN
index ... Go to
ORDERING
instructions