DAVE O'BRIEN and DOROTHY SHORT
in the 1936 movie
REEFER MADNESS
NTSC VHS VIDEO
(North American Standard format -- not PAL compatible)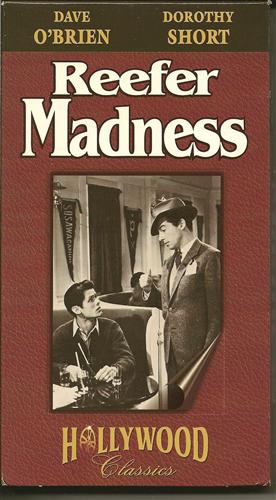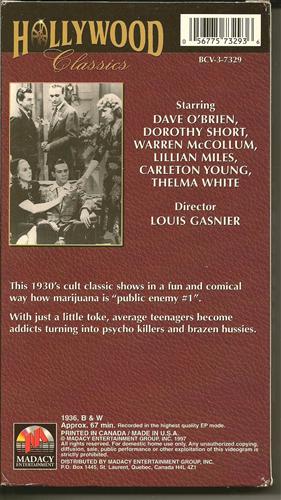 Black and White
Filmed in 1936
NTSC VHS VIDEO TAPE
(NTSC is North American Standard VHS format -- not PAL compatible)
"Recorded in the highest quality EP mode"
Playing time approximately 67 minutes.
Made in USA / Printed in Canada
MADACY Entertainment Group Inc 1997
catalog number: BCV-3-7320
Distributed by MADACY Entertainment Group Inc, Quebec
Like new
from USA/Canada
Item Number: PSMREEF4532
PRICE: $15 plus SHIPPING (see below)
plus applicable taxes (if any)
E-mail privatesalemusic@gmail.com to check availability and shipping costs.

Be sure to include city/country of destination for postal rate calculation.
Return to
MAIN
index ... Go to
ORDERING
instructions