Return to ITEM LIST

ROBERT PLANT

Sixty Six to Timbuktu

2-CD ANTHOLOGY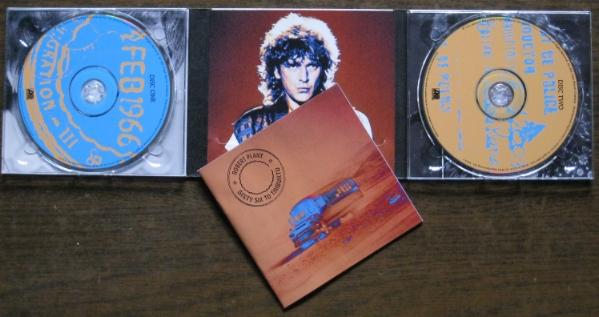 PROMO COPY

2 CD's plus 20 page colour booklet featuring
photos and an extensive history of Robert Plant,
as well as track by track info for each song.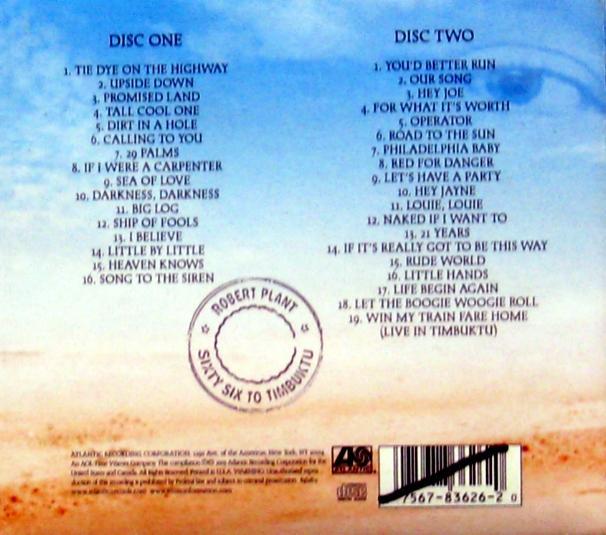 2-CD ANTHOLOGY
35 songs including all the hits
and previously unreleased rarities.

Disc: 1

1. Tie Dye on the Highway
2. Upside Down
3. Promised Land
4. Tall Cool One
5. Dirt in a Hole
6. Calling to You
7. 29 Palms
8. If I Were a Carpenter
9. Sea of Love
10. Darkness, Darkness
11. Big Log
12. Ship of Fools
13. I Believe
14. Little By Little
15. Heaven Knows
16. Song to the Siren

Disc: 2

1. You'd Better Run
2. Our Song
3. Hey Joe [Demo Version] - Band of Joy, Robert Plant
4. For What It's Worth [Demo Version] - Band of Joy
5. Operator
6. Road to the Sun
7. Philadelphia Baby - Crawling King Snakes, Robert Plant
8. Red Is for Danger
9. Let's Have a Party
10. Hey Jayne
11. Louie, Louie
12. Naked if I Want To
13. 21 Years
14. If It's Really Got to Be This Way
15. Rude World - Jimmy Page, Robert Plant
16. Little Hands
17. Life Begin Again - Afro Celt Sound System, Robert Plant
18. Let the Boogie Woogie Roll
19. Win My Train Fare Home [Live]
Item #: PSMPLANT3317

ATLANTIC
catalog number: 83628-2

2 disk fold-out case plus booklet.

from USA

PRICE: $25 plus SHIPPING (see below)
plus applicable taxes (if any)

E-mail privatesalemusic@gmail.com to check availability and shipping costs.

Be sure to include city/country of destination for postal rate calculation.
Return to

MAIN

index ... Go to

ORDERING

Instructions