Return to ITEM LIST

Thin Lizzy's

Phil Lynott

with Brian Downey and John Sykes

often referred to as:
the THREE MUSKETEERS

LIVE IN SWEDEN 1983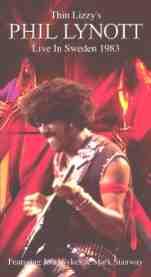 DISK 1
Live in Orebro, Sweden August 5th, 1983
1. Yellow Pearl
2. Old Town
3. Sarah
4. A Night In The Life of a Blues Singer
5. Look In These Eyes (Previously Unreleased)
6. Parisienne Wallways
7. Solo In Soho
8. King's Call
9. Baby Drives Me Crazy (Lynott)
10. The Boys Are Back In Town
11. Dancing In The Moonlight

DISK 2
Live in Avesta, Sweden August 6th, 1983
1. Yellow Pearl
2. Old Town
3. Sarah
4. A Night In The Life of a Blues Singer
5. Look In These Eyes (Previously Unreleased)
6. Parisienne Wallways
7. Solo In Soho
8. Baby Drives Me Crazy (Lynott)

THE BAND IS:

PHILIP LYNOTT - bass and vocals
JOHN SYKES - guitar
BRIAN DOWNEY - drums
MARK STANWAY - keyboards
DOISH NAIGLE - bass and guitar

2 CD box set
with full color booklet insert

Zoom Club Records
ZCRCD083BOX

SEALED!!!!
Item Number: Item #: PSMPHIL0003

from UK

PRICE: $35 plus SHIPPING (see below)
plus applicable taxes (if any)

E-mail privatesalemusic@gmail.com to check availability and shipping costs.

Be sure to include city/country of destination for postal rate calculation.
Return to

MAIN

index ... Go to

ORDERING

instructions