Return to ITEM LIST

SUZY and the RED STRIPES

SEASIDE WOMAN

12 inch vinyl single
both sides are the same

Song written by LINDA McCARTNEY
Produced by PAUL McCARTNEY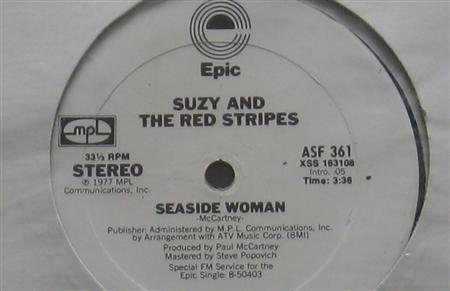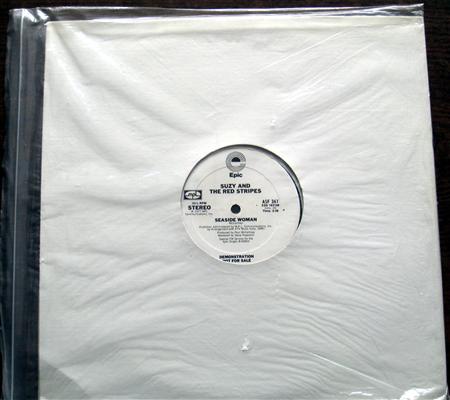 FRONT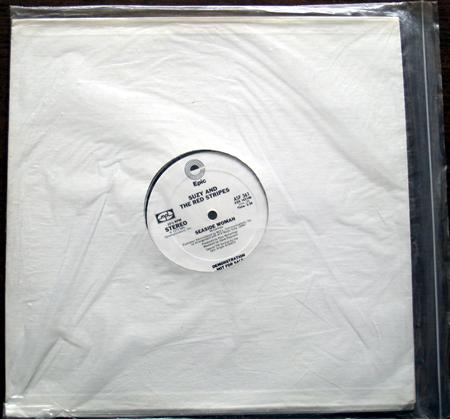 BACK
SIDE ONE

SEASIDE WOMAN

SIDE TWO

SEASIDE WOMAN

(From Wikipedia) Suzy and the Red Stripes was a pseudonym used by
the band Wings during the 1970s. The only release by Wings under that
name was a single written and sung by Linda McCartney entitled "Seaside Woman".

According to an 1974 interview with Linda, she wrote the song during a McCartney
family visit to Jamaica in 1971 "when ATV was suing us saying I was incapable
of writing, so Paul said, 'Get out and write a song.'"

EPIC Records
Catalog Number: ASF 361
XSS 163108

Special PROMOTIONAL release.
Item Number: PSMMCART4568

from USA

PRICE: $25 plus SHIPPING (see below)
plus applicable taxes (if any)

E-mail privatesalemusic@gmail.com to check availability and shipping costs.

Be sure to include city/country of destination for postal rate calculation.
Return to

MAIN

index ... Go to

ORDERING

instructions