Return to ITEM LIST

STONE TEMPLE PILOTS

"THANK YOU"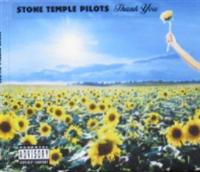 PROMO COPY

Deluxe edition CD with bonus DVD
and 12 page booklet featuring photos of the band.


The "THANK YOU" CD features 13 of STP's greatest songs,
spanning more than a decade of hits. The compilation also includes a pair of special bonus tracks:
the brand-new, previously unreleased "All In The Suit That You Wear" - which is headed to rock radio
- along with an acoustic version of "Plush," recorded live on MTV's Headbanger's Ball back in 1992.

This version of "THANK YOU" contains a bonus DVD. The 3-hour, 32-song DVD features
a dozen of STP's acclaimed music videos and a collection of brilliant live performances,
including a remarkable assortment of "bootlegs" shot by friends and fans of the band.
Among the highlights are never-before-seen musical meetings between STP and two of their
major influences - a version of "Sweet Emotion" alongside Aerosmith's Steven Tyler and Joe Perry,
and a rendition of "Wichita Lineman" with the legendary Glen Campbell.

STONE TEMPLE PILOTS
Eric Kretz
Robert DeLeo
Scott Weiland
Dean DeLeo

ATLANTIC
catalog number: 83682-2

Made In USA

2 disk fold-out case: 1 CD and 1 DVD set

Near mint condition except for defaced UPC (see enlarged photo below)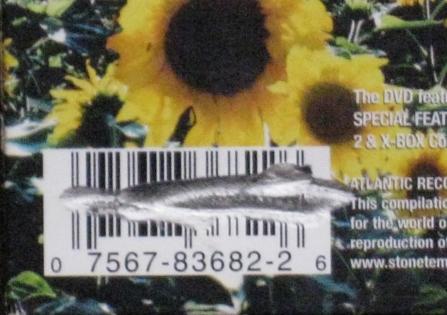 Item #: PSMSTP3321

from USA

PRICE: $50 plus SHIPPING (see below)
plus applicable taxes (if any)

E-mail privatesalemusic@gmail.com to check availability and shipping costs.

Be sure to include city/country of destination for postal rate calculation.
Return to

MAIN

index ... Go to

ORDERING

Instructions