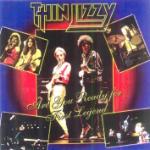 THIN LIZZY
Are You Ready for First Legend?
Korakuen Hall, Tokyo, Japan
September 29th 1979

Lost And Found
LAF149
Are you ready ?
Bad Reputation
Waiting for an alibi
Jailbreak
Sweetheart
Do anything you want to do
Don't believe a word
Got to give it up
Didn't I
Still In Love With You
Emerald
Cowboy Song
The boys are back in town
Suicide
Sha La La / drum solo
Baby drives me crazy
"Limited 100 copies only"
*** Special Note ***
While I have made every effort to ensure the accuracy of this information, I provide it "as is" for your information only.
If you know of any errors or omissions please contact me via e-mail.
Return to Thin Lizzy Discography
Return to my HomePage