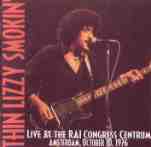 SMOKIN'
CD-R
Live in Amsterdam
October 10th, 1976
at the RAI Congress Centrum
jailbreak
massacre
emerald
the boys are back in town
still in love with you
rosalie / cowgirl's song
sha la la
baby drives me crazy
me and the boys....


Special Notes:
While I have made every effort to ensure the accuracy of this information, I provide it "as is" for your information only.
If you know of any errors or omissions please contact me via e-mail.
THE real CANADIAN James Taylor aka jt.
Go to my Thin Lizzy Discography
Go to my HomePage