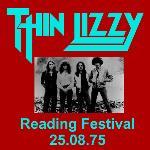 Reading Festival 1975
Live August 25th, 1975.
Fighting
It's Only Money
King's Vengeance
Still In Love With You
Showdown
Suicide
Rosalie
The Rocker
Sha-La-La
Baby Drives Me Crazy
also performed but not included on the cd
Whisky In The Jar
The band is:
Philip Lynott: vocals, bass
Scott Gorham: guitar
Brian Robertson: guitar
Brian Downey: Drums
*** Special Notes ***
Thanks Jamie.

While I have made every effort to ensure the accuracy of this information, I provide it "as is" for your information only.
If you know of any errors or omissions please contact me via e-mail.
Return to Thin Lizzy Discography
Return to my HomePage