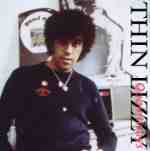 Chester Quaintways
CD-R
October 8th, 1973

Gonna Creep Up On You
The Nazz Are Blue
Suicide
Little Girl In Bloom
Slow Blues
Still In Love With You
Whiskey In The Jar
One Way Jammer
Things Ain't Working Out Down At The Farm
The Rise and Dear Demise of Those Funky Nomadic Tribes



Special Notes:
Recorded live at Chester Quaintways October 8th, 1973. Not for sale or trade. From a private collection.
While I have made every effort to ensure the accuracy of this information, I provide it "as is" for your information only.
If you know of any errors or omissions please contact me via e-mail.
THE real CANADIAN James Taylor aka jt.
Return to Thin Lizzy Discography or MAIN Thin Lizzy page
Goto my HomePage