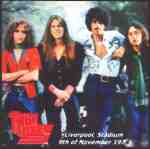 LIVERPOOL STADIUM
CD-R
Live November 9th, 1974

She Knows
It's Only Money
Bottle Of Red Wine -- (a song recorded by Eric Clapton)
Vagabonds of the Western World
Philomena
Still In Love With You
Showdown
Sha La La
Rock & Roll With You
Little Darling
The Rocker
For Those Who Love To Live
Baby Drives Me Crazy
Special Notes:
Recorded live in Liverpool November 9th, 1974.

Not for sale or trade. From a private collection.
While I have made every effort to ensure the accuracy of this information, I provide it "as is" for your information only.
If you know of any errors or omissions please contact me via e-mail.
THE real CANADIAN James Taylor aka jt.
Go to my Thin Lizzy Discography
Go to my HomePage